Born and raised in Chicago, with 4 studio albums already to his credit – ThƏ HappinƏss ProjƏct (2016), Freedom of Speech (2018), Declassified (2020) and George (2020), IAMJFK is a rapper who sounds audacious and downright important. The lyrical heavyweight, who also teamed up with StarCentral 2015 Male Artist of the Year – London's own Bluehomie – on the single "Alive", which also featured Paul-e-Tek and Drem Tgi, is back with a brand album entitled, "Nerd Words". What ends up being the most enticing thing about the recording is that it's an instance of IAMJFK putting out an end-to-end great album, with no fillers.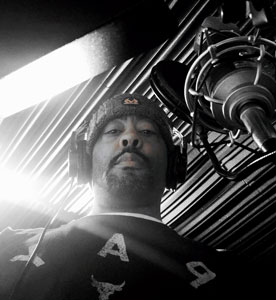 Over the course of a terse 14 tracks, IAMJFK is clearly pushing himself on the mic, which makes nearly every verse on this album thoroughly engaging and often awe-inspiring. On the opening cinematic track, "Soldier", IAMJFK kicks off the disc with particular gusto.
After the melodic lead in hook, his impactful and fierce flows on this track prove that IAMJFK is determined to deliver right out the gate. A four-minute-long flurry of intensely-rapped rhymes ensue, kicking the album off with a bang.
The instrumental on "Knock Knock" is top-notch, beginning with washes of slippery piano, before bursting into reverberating bass, and a heavy slapping beat. IAMJFK keeps up the confrontational lyricism, cutting his antagonists right down to size. "I got more bars than every prison across the state. Ain't no way to remove the lyrical threat. Checkmate," quips IAMJFK. The production sonically and structurally treads diverse ground on this album.
The beat on the "Yesterday", is endlessly impressive, given its prominent bass, resonant cymbal hits, and noodling electric piano. The soulful and jazzy backdrop underscores some great singing and the usual clever wordplay from IAMJFK.
"War" is one of the album's absolute standouts, delivering passionate and emotional vocals, as well as impeccable production work. As always, IAMJFK's messages and warnings are devastatingly provocative, and laser sharp.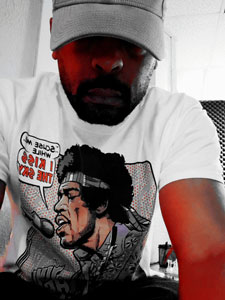 "L.A.F" builds on a powerful piano intro before settling into a head-snapping beat and staccato synths. "Blessed" comes out thumping with an old-school boom-bap bump.
IAMJFK's mic skills are put to the test, as he runs through his rhymes with effortless fluidity. "Spittin" keeps up the lyrical momentum, with IAMJFK showing no signs of slowing down, while maintaining the socio-political undertones ever-present.
IAMJFK represents a strand of a genre wherein artists are all too often hesitant to abandon the "real" approach to their music. The result of this approach assures that "Nerd Words", is a living, breathing monster.
IAMJFK's rapping has never been better. What makes him stand out is his complex rhyme structures, well-employed references, and socially conscious thought processes. "Westside Slums" is another banging, and menacing manifesto of IAMJFK's bravado.
"Shots" showcases a forward-thinking alternative rock-styled production, with squealing synths and twisting vocal effects. This is followed by the throbbing urgency of "Money".  A gripping drum beat drives an epic amalgam of synths, basslines and IAMJFK's voice.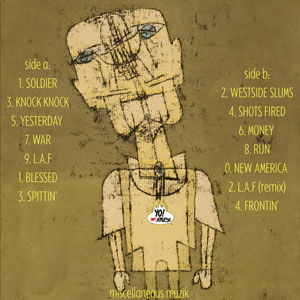 "Better" recaptures the soulful female vocals, while IAMJFK's political manifestations set the mic on fire. IAMJFK has clearly put his mind and heart into his music and this record is the most powerful result of that effort.
"New America" dig deep into the country's continuing discriminatory values and the desolating consequences thereof. It reflects on the realities of America and is a wake-up call for everyone listening.
IAMJFK prominently places his foot in hip hop's front door with sharp wordplay and powerful delivery on "Not Sorry" – a forcefully impressionable track that will engage listeners. The rapper finally closes the show down with "Frontin", which is built on an emotional electric piano and string backdrop.
At a time like this, where the world is in dire need of someone to speak the words people can't say for themselves, IAMJFK provides an invaluable mouthpiece for outspoken words. This album is musical trampoline for moral, social and political evolution. There could be no better time this, for change.
The new album is free while copies last, reach out to the Miscellaneous Muzik for more information!
OFFICIAL LINKS: MISCELLANEOUS MUZIK – IHEART – SPOTIFY
Please follow and like us: