The release of the single "Believe Me" by Loverloveless flies in the face of the traditional music industry zeitgeist. It's an uncompromisingly individualistic effort that further cements the meteoric ascent of independent alternative rap. Artists like this speak to us, devoid of corporate interests and anything that would separate their listeners from the music. "Believe Me" is a rare bouquet on full display; a stunningly realized palette of echoing color, sound, and sensation that swallows the room. Any structure at risk of pop, and emo cliché finds new life through Loverloveless, whose mastery of all-embracing composition creates spins on any existing musical archetypes.
"Every day it feels like I'm trapped inside my mind. These voices in my head trynna undermine. My ability to keep track of fucking time. Searching for the signs. Yeah. Tangled in the vines," kicks off Loverloveless, amidst swirling keys, skittering trap hi-hats, and a thumping bass drum. Loverloveless has a supreme knack for imbuing the song with melodic nostalgia of the familiar.
"Believe Me" vacillates between moods, motifs and melodies rapidly enough to keep heads swiveling. One minute Loverloveless is spitting rhymes, the next his singing his way through the chorus. The artist is at his best during moments like these, delivering confrontational rap meditations and choral crooning. The track wastes no time developing a driving percussive engine, as a keening keyboards provide the melodic backbone.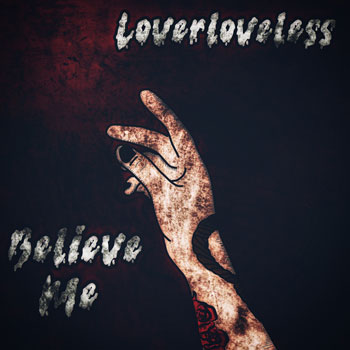 Against this insistent backdrop, Loverloveless takes up vocal arms against an abusive partner and severe trust issues which ignite his anxiety. "All these thoughts interweave. Feeling like I need a leave. Swear. Nothing up my sleeve. Caught up in my own grief. Swear. I cannot believe. Your nothing but a thief," exclaims Loverloveless. He has a flair for dramatic, dense verses that can alternate between introspection, and vicious lyrical attacks.
All aforementioned elements are at play on "Believe Me", as Loverloveless tirades against his abusive partner with a lamenting edge of anger. Indeed, what makes this track work so well is the singularity of Loverloveless musical vision.
His abrasive voice, deep melodic sensibility, and versatile flows mesh with his disillusioned perceptions of the world around him, as well as his ability to make music that — when everything gels — is so unmistakably personal.
"Believe Me" is a gleaming example of what happens when everything goes right. Echoed vocals cascading around him, Loverloveless transforms his sadness and anger into something beautiful to listen to. The song comes with a heavy emotional pull, and those who relate to his story as represented in the music, will have a lot to ponder on.
Loverloveless is an alternative rapper from Morgantown West Virginia who writes about his life experiences, dealing with abuse, mental illness, and drug use. "I've been through a lot in my life and feel that it is necessary for me to tell my story and speak my truth," says Loverloveless. "Music is my soul passion and I just want to be able to touch people and help them through my songs," he concludes.  "Believe Me" is a crushingly heavy journey through one man's mind.
Loverloveless is on Instagram as @xloverlovelessx. Install the app to follow his photos and videos. https://www.instagram.com/invites/contact/?i=126ayc3j2r7fc&utm_content=2z6dhy
OFFICIAL LINKS: FACEBOOK – MUSIC STREAMS
Please follow and like us: