Singer-songwriter 3RE is a Florida-based contemporary artist who wears many hats, fusing dancehall, reggae, Afro-beat and hip-hop into his music. Born and raised in the tough streets of Kingston, Jamaica, he overcame many obstacles, witnessing life in its crudest form, before moving to America at the age of 17. Inspired by his belief in the creator Yahweh, and his love for people, 3RE used music as his solace and escape route to connect with the world. Musically, he is an expansive artist, conducting all his infinitely soulful sounds and visions into a set of harmonious sonatas. 3RE has loosened the borders of genre wonderfully, as he produces slinky and sultry soundscapes that intoxicate and mesmerize.
On his latest single, "Bleeds On The Line", 3RE pulls both his rapping and singing skills out of his bag of tricks. The result is a smooth and melodious groove interspersed with suave vocals and fluid rhyming. Take a moment, as you listen to this tune, and just breathe in all its immersive sounds and voices. It is a symphony that could not have been made by anyone but a deep-thinking artist like 3RE. Without such a unique individual, we could never have anything this beautiful.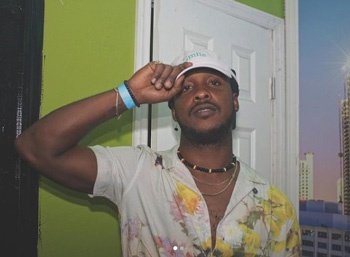 Looking deeper down his catalog, the track "Crazy", further shows us the extension of 3RE's musical dexterity, as he dips into a hip-swaying slow-burn beat. Jangly guitars, warm pads and skittering percussion infuse the song with an almost cinematic effect, where once again 3RE's smooth and resonant vocals are the absolute centerpiece. The singer-songwriter's delivery is mindfully endearing, and his choruses which land on simmering and sustained notes, hit as deeply as they ever do.
"Jamaican" does everything to certify that 3RE is an irresistible performer. The beat, though insistently rhythmic, is never bombastic, while the vocals, which are urgent and dynamic, are never overwhelming. These in fact, are important elements of 3RE's music. Regardless of tempo or mood, his productions are always well tempered and measured.
You can play 3RE's music in any situation, where it will fit in perfectly. A simple turn of the volume knob will determine how the intimacy of his sound suddenly switches to being able to drive the vibe inside a big room. That's because his mixes are lushly but thoughtfully layered. Of course, he can get low-down and sexy, as he does on the explicit super slow-burner, "Laughs On Me", which floats on a deeply atmospheric backdrop and a throbbing beat.
It's hard to deny how much 3RE has been able to accomplish across these tracks, bumping out intoxicating beats and silky vocals. Just in case you're still in doubt, bathe yourself in wistful sounds of "Conflicts". It's echoing sheen and sticky vocal tones keep it inebriating as its immersive grooves pull you farther and farther in. The track is cut through with languorous keyboards, smooth basslines and skittering hi-hats, lulling the listener into a warm embrace as 3REunfolds his introspective narrative.
An auteur who effortlessly stretches across sounds and styles, 3RE is the kind of artist whose creative and emotional reach is fully tangible. Though these tracks only form a part of 3RE's catalog, it already gives us an important vision of the musical world he is striving to create. One in which he is ready to soar.
OFFICIAL LINKS:
https://instagram.com/3re_____?igshid=YmMyMTA2M2Y=
https://tell.ie/OFFICIAL3RE/evF9xurNKGbk
https://www.facebook.com/profile.php?id=100083143970057
https://www.tiktok.com/@thereal3re?_t=8WakWqZ5hjH&_r=1
Please follow and like us: