Freddie Black & B Luv are fresh outta Newport, R.I. The pair decided to collaborate on an album after the successful reception of Freddie Blackskin's mixtape "X-Files". The duo released their debut self-titled lp "Everybody Luv Black" July19th 2014. Everybody Luv Black will be releasing a mixtape, "Outta the Crates" before their full length album "Cratework" hits the market.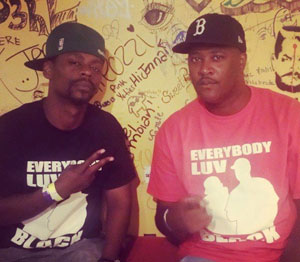 "What Goes Around" is the first single – produced by Gem Crates – off of the soon to be released album "#CRATEWORK". This is "mature" music for Freddie Black & B Luv.  The way they find and create pockets on here, is like no other. Substance, storytelling, great bars, and controversial topics it all can be found on this track. Which easily makes this Everybody Luv Black's best single body of work to date.
"What Goes Around" is a grown, lyrical extravaganza in which the two rappers not only show off their chops but also handle consideration for our fellow man and woman, karma, spiritualism over both materialism and the love of money, cheating, and American culture's vices in regards to race and popular trends. They lean on their experiences from their youth days until now showcasing the struggles of being on a daily grind.
Freddie Black & B Luv stress that for everyone, the pursuit of a good work ethic must replace the obsession of all other vices if you are to make headway in life or in the industry. You need to learn by your mistakes, reflect, analyze and react, because "what goes around comes back around".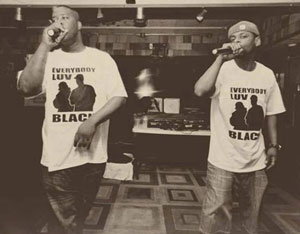 "What Goes Around" dedicates and commits itself to instincts, intuition, good wisdom, and a persistent urge to go forward and survive against all odds. Freddie Black & B Luv come off as very respectable figures, a far cry from the fake imagery we're usually presented with in the mainstream game. They are remarkably more mature and conscious than many of their contemporaries while the music is crisp and very enjoyable.
Moreover they both fit the definition of a lyricist, no words are wasted and every verse on here is fire. If you're a little tired of the braggadocio and swaggering empty heads that fill the airwaves with sheer nothingness, and need to hear someone narrate real life issues as if they truly cared, don't miss "What Goes Around" by Everybody Luv Black.
OFFICIAL LINKS: WEBSITE – REVERBNATION – SOUNDCLOUD – AUDIOMACK – YOUTUBE
Please follow and like us: