Dan Wande aka DW has tuned all of his talents into a new strand of blistering rock and metal music on his brand new project "Kissed By An Angel". Let's be honest, DW entered the rock race super strong with his 2020 record "Wings", and then followed it up with "Dragon Force" which brought the Swedish rocker into the laps of rock fans all over the world. With riveting performances across these recordings, DW was setting himself up to be one of the most exciting underground hard rock acts currently around. As the release date approaches for DW's full length studio album, the buzz continues to be amplified by the response to the songs "Kissed By An Angel" and "Endless Void" found on this EP. And rightly so because the caliber of DW music since his inception, continues to improve while raising the bar for classic hard rock and metal bands worldwide.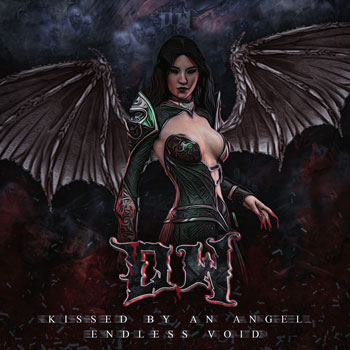 We aren't talking about DW and his band having to reinvent themselves to keep up either. What we're talking about is the validity of the way that DW can lyrically reach into the listener to connect with his experiences, and sonically from the appealing combinations of guitar riffs, tones, tempos, and drops that DW has always used in his songwriting. For those not yet familiar, DW is based in Piteå Sweden.  He is a well-navigated vocalist, musician and producer who has been in the music industry for over 40 years.
On his latest recording, DW wrote, arranged and produced all the songs. As usual he works with a group of expert musicians to bring his vision into reality. You will finds thundering drummer Fabio Alessandrini, who normally plays drums in Anhillator.
Then there is Mark Brown on keyboards, Marcin Palider on Bass, and Giacomo Pasquali on guitar, who is joined by an additonal guitarist named Adam Ward. Finally DW also added two excellent backing vocalists to the collective – Ulrica Backman and Eugenio Paludi.
The title track, "Kissed By An Angel" brings it right out of the gate with a dark parade of heavy guitar riffs outlining the melody and setting the mood before DW fills in the gaps with powerful vocals. Get ready for the insane guitar break in the middle that is fired by rocket fuel.
The maturity in the elements, reflect in this track's composition, and deliver with a pounding beat, shimmering keys, and grating guitars allowing DW vocals to stay at the front of the mix and provide a pathway up from under.
"Kissed By An Angel" is intense and invoking. It delivers almost an effortless mix of what makes up the best parts of each member. The record is a direct look into the emotional sides of humanity and is so easily identifiable because of the vulnerable places the song comes from.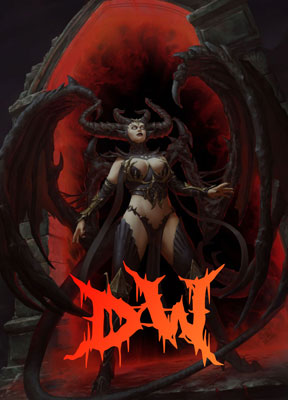 DW once again proves that his music can evoke deep feelings and physical reactions out of listeners. It seems as though every idea that DW thought of during the writing and recording of this record is consolidated into this one song, whether it be mesmerizing guitar solos or stratospheric rhythm sections.
"Endless Void" kicks off with a harmonious vocal intro before exploding into a blend of crushing metal and rock. DW gives a powerful vocal performance that is all encompassing. There is a heavy, dynamic use of his range that just kind of teases you into falling for wherever the melody takes you.
Underneath, the kinetic rhythm never lets up with enormous build-ups and breakdowns, while the muted guitar riffs border on being compulsive at times, relentlessly driving the song's momentum.
Throughout this record, the drummer is an incredible influence, with moments of building tension and soaring adrenaline levels complimented by intricate bass and guitar playing. On top of this, DW is clearly doing things on his own terms, and one can only hope that the addictive nature of what is a highly progressive yet immediate record continues right into his next release.
The new album mixed and mastered in Gothenborg by Cristoffer Borg/Far Beyond Productions, is a conceptually and musically heavy and technically complex record that deserves multiple appraisals.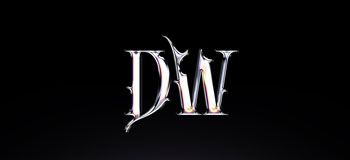 OFFICIAL LINKS: SPOTIFY – INSTAGRAM – FACEBOOK – YOUTUBE
Please follow and like us: