Dubbrich, Born Arron J Collins in Los Angeles, California is an American rapper – producer noted for his smooth, uplifting sounds and life-inspiring lyrics. He lived in Lancaster, California during his childhood and teenage years where he found his love for rap and poetry, writing his first song at the age of 13. In 2010, he moved to Los Angeles to pursuit a College Degree in Technology and Computer science meeting Pakkafella, Packpistol and MTG, who would become his producers and mentors.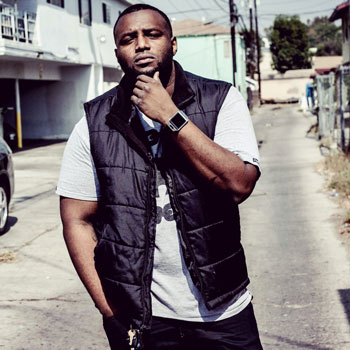 In piecing together his new album, Dubbrich has largely abandoned the usual hip-hop structures in favor of a cosmic electro sounds. Any changes that he has made, though, serves a greater purpose — evidence that he's one of the most restlessly creative underground artists in music today.
"Black Flag" tests any number of limits, celebrating man's potential for triumph, recognizing how completely things can go awry, and condemning the scars accumulated by American historic and commercial actions. While the album is a lyrical landmark above all, there's no missing that it's a rich body of work all around.
"Black Flag" is endlessly inventive, featuring songs within songs, use of extended metaphor, and, of course, Dubbrich's explosive flow patterns. It makes sense that an album of this level contains no musical boundaries. Dubbrich's thoughts are all over the place – from tackling subjects like LA gang life to personal struggles and housing corruption schemes – from the lows of depression to the highs of artistic confidence, there is nothing as thematically prevalent as Dubbrich's urge for struggling black Americans to rise above it all. Essential Tracks here include, "Black Flag" Produced by Jinsen, "Broke" Produced by Sticky Icky and "Stone Cold" Produced by Zoman.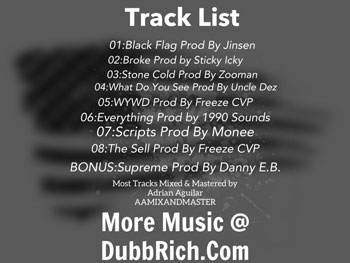 Dubbrich is enamored with his people and promotes the message of self-betterment. It's dead-serious stuff, but there are still songs here that allow you to relax a little…just a little. "Black Flag" is one of those pieces of art that comes along like once in a decade, so layered with meaning, so knotted up with intent and resonance, treating issues and themes that can span eras.
It's the sort of album that deserves to be really listened to, and worked out for oneself. All expressed in Dubbrich's quite astonishing box of voices, flows and personas, we take a journey with him that begins with inspirational doses of pride and positivity from the opening title track.
And this album continues to astonish, inspire and remain hugely affecting all the way through, with tracks like "What Do You See" Produced by Uncle Dez, "Everything" Produced by 1990 Sounds and "The Sell" Produced by Freeze CVP. What does it all boil down to? "Black Flag" is an album with more to say about contemporary America – the country's commercial and political structure, the vast inequalities dictated by money and skin color and pretty much more than you'll read in any of the so-called history books and daily news chronicles.
Dubbrich has a way of accruing and gently layering his deliveries and messages rather than bludgeoning the listener – all of which will leave you energized and uplifted!
OFFICIAL LINKS: WEBSITE – TWITTER – SOUNDCLOUD – APPLE MUSIC – SPOTIFY
Please follow and like us: