DJ, Producer  and artist Dj Overule is the mentor of the "Pump up the Volume Radio Show," and produces events like "Sunglasses at Night" and "Good Stuff" between a full schedule of gigs and tours. His single "Até Já" by New Max feat. Junior has also been chosen as the anthem of the TMN. Dj Overule who has collaborations with names like Expensive Soul, Flow 212, and Matozoo under his belt, dabbles with a plethora of styles that run from Club Music, Hip Hop, Funk, Electro, Ghettotech, Kuduro and  Reggae to Dancehall. "Basically, anything that involves Black Music is my roots," he says.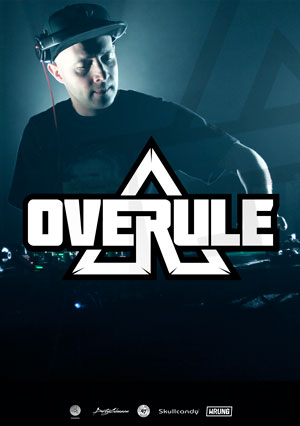 EDM crowds are a capricious lot. One day they demand electro or minimal; the next they want anything but. This is, of course, what makes dance music exciting: the fluidity of movement between genres allows the DJ/Producer to be not just a technician, but a musical prophet of sorts – someone who gives the people what they want before they know they want it.
And few know this drill better than Portuguese electronic music wizard Dj Overule. His luscious productions and mixes are slices of shimmering EDM perfection.
If you are not familiar with Dj Overule, you can do that now! That is, if you are a fan of original, well done club and dance music. His latest track "Body Talk" featuring the sweet and ethereal vocals of Rebecca Garton is absolutely one of the most well produced singles I have heard in a long time.
Dj Overule is a talent like no other in this genre. Once upon a time there was this sort of sub-culture of club DJs that produced their own original music which, thanks to the growing audiences as well as mainstream radio, are no longer a 'sub-culture' but an integral part of any popular Top40 chart worldwide.
The smooth, sensual and uplifting anthem, "Body Talk" ft. Rebecca Garton, could comfortably sit anywhere on any of those charts. Sweet and deep, is the best way to describe this track, as Dj Overule sets the mood immediately, with a driving beat, sinewy horns, and enticing chords.
Dj Overule has made one of those rare EDM tracks that sound really good outside of the club as well. In fact you could the volume up on this one just about anywhere you are – at work, at home or cruising in the car – and it will turn heads!
OFFICIAL LINKS: WEBSITE – STORE – INSTAGRAM – TWITTER SOUNDCLOUD – MIXCLOUD
Please follow and like us: