Bad Slime is an experimental underground producer and DJ from the Northern California Bay Area, with production experience on over forty albums prior to this project, entitled "Slime & Punishment". Bad Slime describe their sound as 'post-maximalist bass music', deriving influences from genres which include dubstep, drum and bass, footwork, trap, chiptune, and hardcore. Bad Slime would be one of the artists, whom I'd put amongst musical masterminds, who not only innovate, but also in their experimentation, channel their vision, supporting it with their tools of artistic expression, rather that exploit them as a gimmick.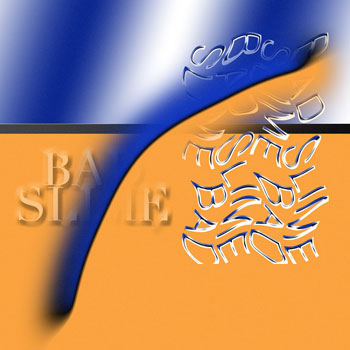 "Slime & Punishment" comprises fractions of ambient pieces with dark and sprawling, ethereal sound, and on the other hand; ornery, assaulting sonic barrages. Somewhere in-between there's a space for anthemic instrumental deluges of audio hysteria that shake rattle and roll.
The ambient parts of the album are lush, but not in the strict definition of the word, rather – in the very sound of the word. The sounds resonate, merge. They span, meander and growl in a wave-like fashion, punctuated by sounds interfering in an asymmetric manner, creating a sense of anticipation for something to emerge.
Unnerving, they offer a sense of comfort, while constantly reminding of the presence of something twisted below. Only a thin veil separates the serenity from aural madness.
A constant constituent of the 11 superb tracks that make up the album are the contrarious, skewed and forceful pieces. Their calamitous tones are the logical conclusion to the build-ups carefully constructed by the calm preceding them.
Everything from a composition standpoint is carefully curated by Bad Slime, the framework is distorted,  the sounds are piercing, even industrial at times. The drums resound; they're thunderous, as the music evokes all sorts of imagery like some mean-spirited dogma caught up inside a creepy videogame.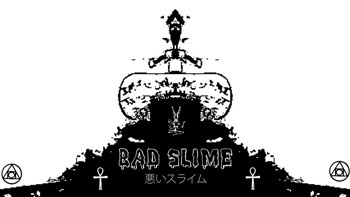 Distress, rage, revenge and coming to terms with a loss, are all emotional themes which come to mind while listening to these tracks. These songs also are raw around the edges, making them sound dramatic and emotionally genuine.
The skewed rhythmic juxtapositions contrasted with deeply felt musical segments and the anxiety-ridden synths, give rise to an album that utilizes the whole electronic tool-set at hand, but doesn't rely on cheap trickery and any clichéd pulling of the listener's heartstrings. Instead, its emotional quotient rises from methodically lulling the listener into placid, then foreboding and finally turbulent segments that will stir the soul.
"Slime & Punishment" to me is a near magnum opus, as Bad Slime creates atmosphere with a careful, almost intellectual, approach to composition and the use of sound, rather than just simple frequency manipulation that plagues a lot of experimental music.
If you enjoy experimental electronic, instrumental, soundtrack or videogame music, you can't go wrong with this collection of compositions. "Slime & Punishment" will evoke powerful emotions in the listener, and maybe some awe from other electronic producers. I will be keen to see when Bad Slime completes his first videogame soundtrack assignment for a major production house.
OFFICIAL LINKS: WEBSITE – BANDCAMP – SOUNDCLOUD – SPOTIFY – TIDAL
Please follow and like us: