If you used the terms "rap" and "hip-hop" in past decades, you were speaking of something completely different than what we're listening to in 2021. Alternative sounds and hybrid blends in hip-hop are becoming the norm, and outliers in modern rap are branching out further and further from the traditional boom-bap of the '80s and the gritty styles of the '90s. The underground scene has about disappeared, emerging as a united force with mainstream currents, united by the power of the internet. But that hasn't stopped the prosperity of diversity. From outsider veterans who are finally getting their props, to new creators who are not interested in following traditions, but rather wanting to bring on an evolution in music. Canadian based artist, Dignatian belongs to the latter group.
Dignatian hip-hop/rap/reggae artist who has been on the music scene since 2015. His lyrics emphasize accountability, leadership and success, while his core belief is that nothing can be accomplished without commitment, passion and a desire to bring it to fruition.
To listen to Dignatian's 18 track album "Mustard Seed", is to be slung through a gamut of genres, ideas, raps, and melodic vocals, in a sort of breathing sociological creation that democratically blends words, rhythms and voices into inventive combinations that manage to be neither pretentious, nor overdone.
Dignatian creates music sure to captivate with its alternative edges, percussively driven beats, and unexpected melodic twists and turns. Dignatian's sonic landscape is one of modern rap's most fascinating and excitingly mercurial, a meritocracy of unusual musical ideas. What might stand out at first is his unusual rapping style – fast-paced, melodic and rhythm based, packed with different rhyme schemes – but it goes deeper than that.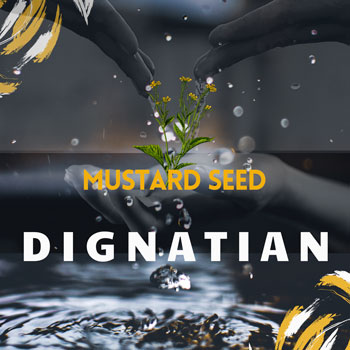 From the opening track, "A Message", the drums bang, driving a reggaeton-styled rhythm, while Dignatian slides over the top with his silky-toned delivery. "Have Some Fun" runs even faster, as it leads you towards the dancefloor with a spring-heeled bounce.
"Under Lockdown" maintains the momentum with the beat and synths propelling the track. "Early Morning Stroll" sees Dignatian explore the timbre of his vocals, as he engages off-kilter melodic motifs.
By the time you hit on tracks like, "Hugs and Kisses", "No Promises-Remixes" and "Empowering Words", you realize that Dignatian is a shining example of when dong things differently, and not giving up, works out extremely well.
If you give him time, Dignatian will dig his claws into your consciousness and refuse to let go. "When Love is Wrong", "Tic-Toc Dance" and "Mama's Town", continue showcasing the artist's eclectic flow, together with his groove-driven beats.
Dignatian doesn't fit in with your typical cast of rap and hip-hop artists. But that's the thing – he stands out no matter who you compare him to. Listen to the whispery "Give Her Space", the bass intense "Money No Honey" and the percussion-filled "Twin Peaks", as he proves that it's not just what you say, but how you say it that captivates listeners. Dignatian articulates his thoughts in ways that only he could.
Moving forward, to the title track, "Mustard Seed", "Work It Out" and "Faces", Dignatian continues to overflow with a peculiar charisma that manifests itself through off-the-wall flows, and unhinged, left-field vocals.
His multiple cadences accentuate the rhythmic aesthetic that dominates his work, which closes with "Weekend Love" and "Superstars". No one has served originality to the rap and hip-hop table the way Dignatian has this year.
Regardless if you're aware of his presence yet, it's no surprise that he will continue to surge into a variety of fresh listeners' ears thanks to his creative approach to music. All of which can be heard on the album "Mustard Seed", distributed via Dignatian's own music label, IKPS Music.
OFFICIAL LINKS: WEBSITE – INSTAGRAM – TWITTER – SOUNDCLOUD – SPOTIFY
Please follow and like us: