That Dan McCarthy is a resilient and determined artist is clear by one of the statements found on his website: "We can change the music industry, one note at a time. Just let it flow. Be yourself! Doesn't worry about fitting in or having an "image", just play good soulful music! It's ok to be different! It's ok to be unique!" At times poetic, at times prophetic, and at times just lush and beautiful, "My Wish For Peace" the EP by Dan McCarthy will grow on you more and more with every listen.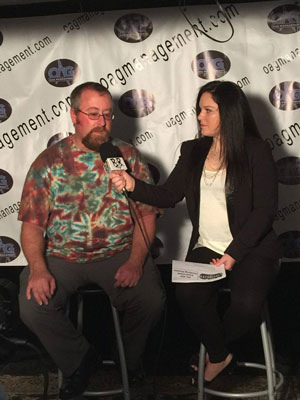 With its gorgeous overtly conscientious lyrics and folksy songs, Dan has proven that he is a singer-songwriter that means business. In an industry flooded with perversely "perfect" imagery, he gives us the word of and the observations of an imperfect man in an imperfect world. Whatever the subject, Dan McCarthy can tackle it head on without compromising who he is.
Dan McCarthy's music is as bare boned as is his soul to a world moving at speeds unfathomed as a society and civilization. In an era where family focus, in sync with the environment, has become disengaged, desensitized, disenchanted, and disillusioned and where natural born instincts and intuitions have been dulled by mere repetitions. It is in this environment that McCarthy, the modern day chronicler and troubadour turns out simple acoustic songs of remarkable wisdom and heritage on the spirit of man.
The natural ability to soothe, and subtly suggest by song and lyric, marks Dan McCarthy for distinction. Moreover he has not sought commercial commerce of his product through compromise. His sojourn in relative obscurity will move slowly towards its end, once his talents become too immense to ignore or deny. "My Wish For Peace" is the demarcation where old musical worlds presents itself to new ones meet.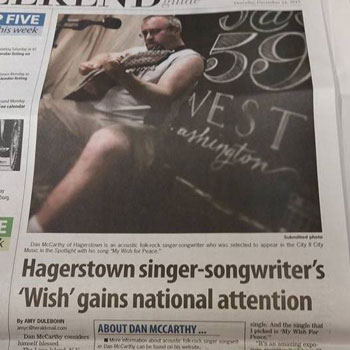 Through "My wish for peace", "I'll Climb",  "You Don't Know What I'm Thinking", "My Fathers House", "Shortened Yellow Lights Cost Lives" and "The Shell Of A Man" the riddles of life have not yet been completely solved, but addressed and updated for modern man to better understand by Dan McCarthy. Take his personal and poignant journey while mystery and discovery still thrive in abundance as companions, ageless and enduring.
At the most elemental level, Dan McCarthy's songwriting is captivating and simple. His ability to capture and transmit a feeling of intimacy in his songs is mindboggling. His lyrics are weaved brilliantly around the songs' music – a simple strum of an acoustic guitar – as the muscle and tissue are built around a single backbone in order to lift up and sustain the body of his songs.
Insightful and melodic, subdued and sparse, but equally as thoughtful and moving, Dan McCarthy has all his own style and is not afraid to tell us who he is. He is slowly and creatively forging his own musical path.
OFFICIAL LINKS: WEBSITE – TWITTER – FACEBOOK – CDBABY – AMAZON – YOUTUBE – SOUNDCLOUD
Please follow and like us: