I doubt that Cosmonaut Radio could do mediocre music even if they had to. They were born for the art of their unique brand of music.  The album "Work Harder, Comrade!" will have your musical atoms disintegrated and reformed, stronger, faster, smarter…and funkier. You will be transmogrified into a groovier being. The album is focused on an upbeat blend of funk, modern rock, and old school R&B. Cosmonaut Radio's 'galactic party' music philosophy extends to the stage, where they sport Russian military gear, wield nunchakus, and are willing to try anything to augment their brash, fun energy.
Let's face it. There are big changes in youth culture during each decade. And as one decade transitions to another it often takes a couple years for the original flavors of the decade to really sink in. It happened fairly quickly in the 1990's. It was even starting in the 1980's really. Yes that's a contradiction. And yes that's the point. Pop culture often seems to be at odds with itself.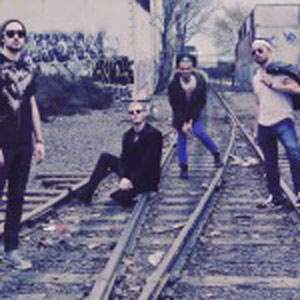 Well in all of this upheaval Cosmonaut Radio has everything to gain really. They have the capacity to be cultural commentators. They have a unique sound. And they revel in seeing how far they can take it. With no pressure for making that formulaic pop "hit" song. And withdrawn from the ambition for commercial success at all costs, they can just be 100% themselves. Now that's a damn good thing for the future of music!
The result is the 5 tracks that make up "Work Harder, Comrade!" It is full of exciting melodies and rhythms, often highly memorable stuff. But nothing here is approached commercially. It's rather like a nuclear chain reaction of sound between P-Funk, Sly Stone with the Red Hot Chili Peppers, The Average White Band, Faith No More and Jamiroquai.
The music is extremely energetic and fully fleshed out in most parts. "Kill Or Be Killed", "Triceratops" "Cosmic Teet" and "Counting Down" are all extremely bouncy, melodic horn funk at different speeds; while "Malbecs" brings in some blues and soul influences and a mean organ.
This album actually finds a group of individuals and musicians who are seeing the alternative era clearly, in all of its forms. It explores that with an elaborate palette of sound, often veering all over the funk and rock spectrum at a moment's notice and maintaining a certain level of focus within all this musical hyperactivity.
Members Russell Lione (Electric Guitar, Producer, Keyboard, Multi-Instrumentalist, Vocals), Michael Tamola (Bass, Songwriting, Arrangement, Vocals), Austin Deyo (Drums, Songwriting, Arranger) and Freddy Millan Jr (Vocals) are making mind-expanding, genre-crossing music that will move your feet and soul.
These guys really put together a solid collection of songs with excellent, thoughtful, intricate writing and musicianship.
OFFICIAL LINKS: WEBSITE – INSTAGRAM – FACEBOOK – TWITTER – ZAZZLE – STORE – YOUTUBE – EPK
Please follow and like us: