Christian Pop artist, Chayah Miranda (pronounced "kai-yah") has spent much of her life around the gospel music of her church and the jazz influences of her mother and grandmother, both singers. The song in her heart runs through her blood and is the driving force of everything she does. During an illness which had the Berklee College of Music student bedridden, she read the book "Steps to Christ", and surrendered to God asking Him to come into her life and heal her.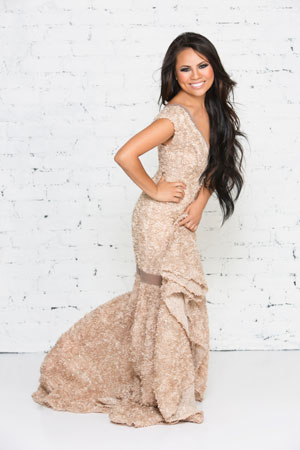 After her recovery, Chayah joined a college missionary training program called STRIDE in which she traveled to different campuses all over Boston to offer Bible studies, free meals, and presentations on health. She has since continued to share her faith and has dedicated her life to God and to her music as a vessel for His message of faith, love, and hope for the world.
Chayah Miranda has released her album "No Other Way", which includes the lead single "Higher". This album is a near-classic, for it is completely relatable and realistic. You can practically tell each song's subject matter just by the title. She's not singing about wishing to play in the dirt, nor is she singing about anything raunchy.
She perfectly resembles the kind of artist we need more of. Although slickly produced and well-written, the album is first and foremost about the power of Chayah's voice. This songstress has a soaring set of pipes on her, which she uses again and again to amazing sweet effect.
Yet while the softer tracks provide a nice break and help round out the album, it's the powerful ballads on which Chayah Miranda shines brightest. Her voice soars on tracks like "No Other Way", "He Loves Me", and "Beautiful Mystery". I have purposely held off on talking about the album's up-tempo songs, until now, because it's here that she grabs your attention, making you feel the unbridled joy of love. Tracks like the single, "Higher" or "Under Construction" and "Let Go", will make you feel uplifted and exhilarated. Merely hearing the first minute of "Higher" was enough to convince me to listen to the entire album.
Chayah Miranda can be increasingly compared to your favorite divas vocal wise. She has everything it takes to become just as huge. She has a voice that can ride any song, the maturity to know when to use it and when to hold back, and the life experience to bring honest and deep felt emotion to her songs.
Furthermore she has that inner faith that many others lack, giving her surefooted security. If you like R&B and Pop music infused with positive Christian themes at all, you should have this album in your collection. It will provide countless hours of enjoyment. And ten years from now when Chayah Miranda is just as big a name as your current pop diva, you'll be able to smile and know you were with her from the start!
FIND THE ALBUM TO STREAM AND DOWNLOAD AT THESE RETAILERS:
FOLLOW CHAYAH MIRANDA'S HERE:
Please follow and like us: