We're just a few weeks away from a new year, and already there's a fresh crop of rappers who are ready to take over 2022 and define the sound of the upcoming years. As rap continues to get more stylistically diverse, each artist brings in aesthetics that tie all these newcomers together. At the same time artists like Young Skeem continues to carve out a lane for himself. With a natural knack for melody that separates him from most peers, he makes songs that paint the picture of an artist who isn't afraid to discuss the hardships in life, but also the ambitions to take over the world.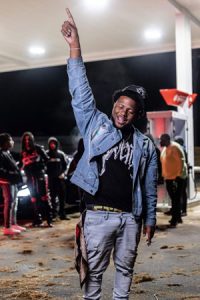 Young Skeem is a talented unsigned/independent artist from Staunton, Va. In 2020 he gained notability being featured with other top Virginia artists in the region, then went on to dropping his own solo project, entitled "Numb" (The Ep). He uses his past, struggles and passion for music, to go deep into topics mostly based on affliction, and to bring your mind to a less stressful spot. Young Skeem is currently promoting his latest single "Lose Control", which dropped at the end of November 2021.
"Lose Control", shows Young Skeem's effortless ability to write sticky hooks that have a way of climbing inside your brain and never leaving. Whether he's floating over beats anchored by shimmering synths, pop rhythms, or plunging 808s, Young Skeem loads a stack of flows and witty bars that show he has the makings of a true star. He skillfully bounces between the evolving scenes of rap and melodic hip-hop. And like any player who can play multiple sides of the floor, he forces his peers to step their game up.
What sets Young Skeem apart from his peers, though, is a natural bounce and suaveness that sits at the core of his best songs, and is absolutely evident on "Lose Control". Young Skeem makes songs that you can party to, and learns life lessons from, all in one sitting.
Connect with Young Skeem: TWITTER – INSTAGRAM – APPLE MUSIC
Contact mikaeeltoney5@gmail.com for all booking purposes.
Please follow and like us: