The Plugz Europe, also known as Pablo, started 20 years ago as a rapper, and is now a Dutch successful entrepreneur, executive producer, composer, author and label owner of Algerian descent. The Plugz Europe has contributed to a broad array of international music projects in various genres including R&B, Hip-hop, Pop, Drill, Afro, Dance etc.
In recent times he has been the successor to many collabs and careers. The Plugz Europe has not only contributed to the work of Dutch artists, but also left his mark internationally working on projects with artists such as: Rick Ross (USA), Desiigner (USA), Vegedream (FR), Jul (FR), Algerino (FR), Franglish (FR), Busta Rhymes (USA), Bosh (FR), Jason Derulo (USA), Juicy J (USA), Snoop Dogg (USA), Anas (FR), Trobi (NL), Mula B (NL), Uzi (FR), Bizzey (NL), Tayc (FR) and many more.
His mission is to bring different genres and cultures together in order to create exceptionally great music. In 2021, he signed a publishing deal with Cloud 9 Music. To support his endeavors Cloud 9 Music and The Plugz Europe teamed up for a joint venture: The Plugz Publishing and started to build their own team with several artists and producers.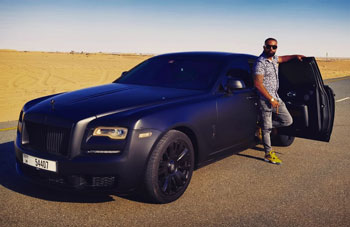 With his team, operating from different countries (Netherlands, France, Dubai, Algeria, Morocco) they hunt for upcoming artists / producers / Dj's and they develop international projects to build a bridge for them and to create new opportunities for them in the international music business.
When we asked him about his secret success formula he answered: ''Dreams don't work unless you do. It's all about networking and taking action. Dare to try new things in life. Even when everybody isn't positive about your plans in the beginning. When you succeed, they will follow anyway.''
In 2021 Pablo started with his brother Yacine (an A&R of The Plugz Europe), The Plugz MENA (Middle East/North Africa) department. Since then they also started to develop projects with several artists as: Kouz1 (MA), Mocci (MA), Liamsi (MA), Hustle (DZ), and they started to collaborate with the Moroccan label SSC from Tanger to build a bridge for their artists to Europe and the Middle East.
In November 2021 The Plugz Europe went gold with the biggest French compilation album 'El Classico' with 157 artists. He produced 2 tracks featured by French artists; Jul, Algerino, Franglish, 100 Blaze, AM La Scampia, Keblack and Jokair (Title: On a Trop Charbonne) and the second track with Belek, Black M, Kofs, Youssoupha. (Title: Micro Charge)
The Plugz Europe is working on several projects at the moment, and there is a lot coming out in 2022. Connect with The Plugz Europe at their WEBSITE and on INSTAGRAM
Please follow and like us: