"This is one artist to watch, for sure…Soran proves his undeniable talent with his genre-bending soundscape." – Notion
"Canadian supernova of talent…His voice is absolute perfection and the playfulness of his singing style is quite inviting and vivid." – Wolf in a Suit
"SORAN perfectly represents the new generation of artists " – YMX
November 2021 – [Montreal Canada] Following closely on from his third 2021 single in October,  'Space Boy' marked a coming of age for Universal Music Canada's Soran. A turning of the tide is fully in motion as each release sees him expressing even more creative freedom in his songwriting whilst stepping into his full potential as Soran. 
Now he gifts fans with a surprise fourth single and final offering of 2021, the electronic alt- pop, sad bop 'Tired'. Oozing with honesty, this authentic confessional style single adds another piece of the puzzle for Soran, as he continues to unveil his own explorative concoction of alternative RnB, Lo-fi, spacey electronics and buttery soft vocals that detail the finest alternative pop hooks and melodies. Soran is bursting at the seams, ready to carve out his own unique place in the industry.
---
"The verses are written by the head, the chorus by the heart. I wanted to portray the constant back and forth and confusion that goes into one's mind after a breakup."
---
'Space Boy' was a poignant release for the young artist as it not only marked his return but was also an ode to his late mother who sadly passed last August. "That song means so much to me. My mom named me after the anime Space Boy Soran. In Japanese, there are three different alphabets. She decided to write my name as 'Universe' in Japan. Lyrically, it's about a character who goes out to save the world." 
New single 'Tired' is the next piece that has slotted perfectly into place as Soran continues to open up, honestly sharing the depths of his thoughts and feelings. Preparing fans for something extra special this 2022, for Soran, the universe is truly the limit.
---
"My superpower is making music…I'm incorporating my artistic inspirations from R&B to Pop and my heritage with Japanese moods. Everything has really aligned, and the music is just Soran."  
---
Website | Facebook | Instagram | TikTok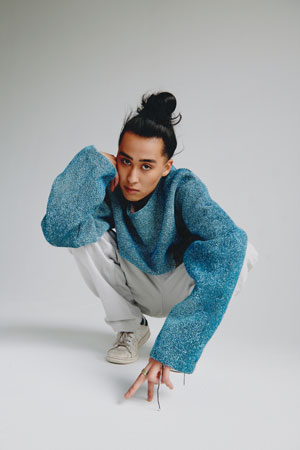 SORAN BIO:
The moment an artist realizes his musical capability resembles the moment a superhero embraces his power once and for all. After quietly buzzing, Soran has grasped his destiny as a singer, songwriter, producer, and multi-instrumentalist. Now, the Montreal-based half-Japanese and half-French artist architects a new vision for pop and R&B uplifted by interdimensional soundscapes and irresistibly infectious hooks. Blasting off independently with tens of millions of streams and views, he truly takes flight on a series of singles for Universal Music Canada and his forthcoming 2022 debut.
"My superpower is making music," he observes. "I'm incorporating my artistic inspirations from R&B to Pop and my heritage with Japanese moods. Everything has really aligned, and the music is just Soran."
He's diligently worked towards this point though… Music always surrounded Soran. His father played multiple instruments and kept drum sets, guitars, bass, and a mini-keyboard in the house. Meanwhile, Mom worked as a journalist for Japan and enrolled him in Japanese school until the age of twelve. Along the way, he learned three languages—English, French, and Japanese.
During a high school field trip to New York City, he bought a guitar from a homeless man, practiced constantly, posted videos to Facebook, and busked for a year-and-a-half at subway stations and on the streets. After making waves on La Voix (The Voice) in Quebec, he gained traction with his six-track self-titled EP, playing every instrument personally and generating 10 million-plus streams. Simultaneously, he lent his voice to HENRI PFR's "Going On," picking up a gold certification in Belgium. He reached viral impact with the likes of "IG Comments Song" in addition to clocking 15 million streams by featuring on "Julia" by GAMPER & DADONI. Soran maintained his momentum in 2021 with "Bottled Up" before catalyzing another creative evolution inspired by everyone from Frank Ocean and Kanye West to his "favorite band of all-time" The Police.
In the wake of his mom's passing, he plunged into his next chapter with purpose and passion. "It's ironic, because I'm doing all of the things that she wanted me to do now, but she's gone," he admits. "It sounds like me, yet so much of it is my mom. I find a way to celebrate her in every song."
With a combination of vision and power, Soran will definitely make the world a better place. "I love writing and producing," he leaves off. "I really just want to create a sound you'll recognize as mine. I'm just a kid who's making music, but it's my calling card. There's so much people haven't seen from me yet. I'm excited to show more in the future."
Please follow and like us: