What does an orchestral musician, an accountant, a software developer, and freelancers, have in common with session singers, a guitarist and a clarinet player? Well they all make music together in an alternative industrial type collective, called 'Sondado', led by fulltime core duo, Tamas (composer/keys, virtual drums, FXs, mix) and Gerald (lyrics, and vocal for most of the songs). And as you would expect from artists who originally work in the IT sector, their music is electronic-based. But what you will not expect is that Sondado do not use loops and samples, preferring the more time-consuming but satisfying do-it-yourself creative method.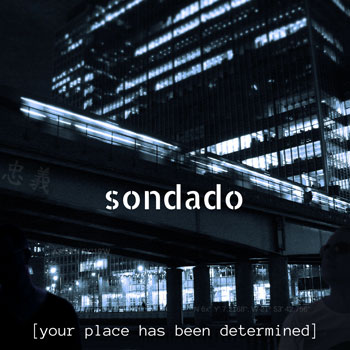 Sondado's latest album is the 12 track "Your place has been determined", composed and mixed by the duo themselves and mastered by Gabor Noniusz. Every song on this album sounds different, and has different qualities overall from the last. Yet each song and the order they come in manage to string the song structure together with flowing unity. The songs are all there for a reason; extensions of one another, bolstering each other's overall sound and increasing the quality of resonance left in your mind after listening to "Your place has been determined".
Many tracks share the same energetic drum & bass feel, which Sondado pass along from song to song, leaving each track with its own distinguishing features and feeling. Specifically, the most distinguishing and differentiating element between the songs, is the vocals – one minute it's a soaring female voice, the next, the croon of a melancholy male baritone or even the rampant rhyming of rap verses. Without of course forgetting the choir chants and big choral arrangements, fit for any movie score.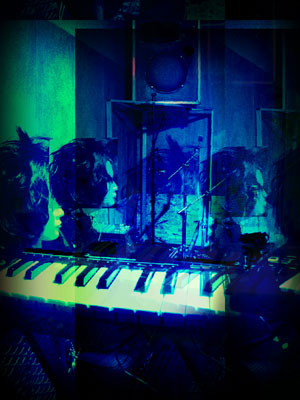 Also impressive is the duo's ability to carve such dense and emotional soundscapes, track after track, which takes you through the entire human emotional spectrum. From its raging highs to melancholic lows, listening to "Your place has been determined" is a cathartic experience, much like watching an epic film.
The title track, "Your place has been determined" is menacing and driven with its rap and sung verses, when it's not spine-chilling you with its low bass lines. "Approaching Achelo" is both gloomy and glorious with its beautiful synth pads and switching male-female vocals, adding a notable contrast which attracts and seduces the ear. Sondado's ability to capture moods, colors and tones in "Project: Social Evolution" using an intense string palette and sedating vocals is unreal. Not that the songs I listed here are the only songs of interest. The rest of the album, of course, is expansive and rich with sound. You will enjoy the epic instrumental reminiscences of "Northern Winter" and the enterprising motion of "Future Visions" and "Road to the Unknown".
"Your place has been determined" is a fully consistent album, which defies the limited boundaries of boxed genres. The flow of the music almost fits perfectly like a puzzle. Its magnificence is not compromised for inaccessible experimentation or for mainstream exploitation, balancing the warring poles of minimalism and cacophony. The result is an album that blends and distills Sondado's most satisfying elements down to a near-perfect 43 minutes. "Your place has been determined" is epic and subtle, technically savvy and emotionally charged, and visceral all at once.
OFFICIAL LINKS: WEBSITE – BANDCAMP – ITUNES – FACEBOOK
Please follow and like us: