Tommy Shafer is a 16 year old singer-songwriter from New Jersey who has been singing ever since he was inspired by Justin Bieber when he watched his 2011 Documentary "Never Say Never." Tommy never got serious until March of 2012 when he picked up his dad's Martin guitar and learned a few Justin Bieber songs. A few months later he bought his own Epiphone Hummingbird Acoustic guitar and soon enough he started posting YouTube videos and got a few hits. But Tommy didn't stop there.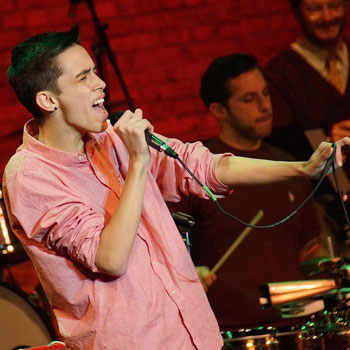 Tommy was writing songs and felt he needed to put them into some sort of collective effort. So he set his thoughts on putting together a 5-track EP. The problem was that neither he, nor his family, had the money to throw around into recording expenses, plus Tommy had no record label to invest in his music either. This resulted in him having to find a job to get the necessary funds, and then locating a studio to suit his budget- which is exactly what he did!
Luckily Tommy and his dad were able to handle all the production work by themselves – playing guitars, drums, keyboards and other acoustic instruments. Matthew Maroulakos took care of the engineering work. The result is Tommy Shafer's debut EP "Breakthrough".
What this is: a young musician's first EP and a taste of his songwriting and vocal abilities. What this isn't: the most complex, technical, perfected album. But it's a very enjoyable body of work and achieves what it sets out to be- a showcase for Tommy Shafer's raw talents. The music will make you think of the usual teenage star comparisons – while also making you wonder, hey this guy sounds a little different from those other artists. Tommy is not only a good singer and performer, but he is a great writer and a real musician – a key to being a success in the 'real' musical world.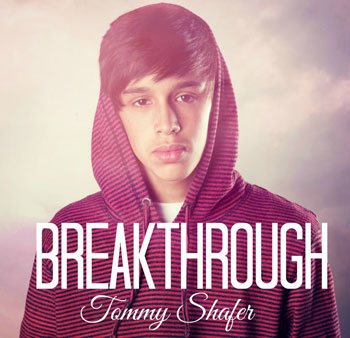 When you're listening to his music you can't help but appreciate his voice, because it is riveting and it gets to your core. The tracks here show many examples of Tommy's fine all-round abilities, but he's still in the fixing stages, so we will have to hang on a while before he engages the avenue he will eventually follow. While there are some songs I like more than others, there is not one song that I dislike. The strong ones definitely include "In My Eyes", "I Am Right Here" and "One and Only Girl". These songs have class and depth, with just a touch of that naïve honesty rarely found in older musicians, yet at the same time he delivers heartfelt performances with a maturity that belies his years.
The music and lyrics mesh well, while Tommy kept his inspirations flowing throughout the EP. His supple voice is light and sweet, but has a depth that indicates that he is growing up. The lyrics are well-written and every part of each song goes together. There are certainly nods to artists that have influenced him but this is no copy-cat EP, as Tommy goes all-out to demonstrate the quality of his music. He performs catchy songs completely devoid of "pimpin'" and "ho's". And that's a tall order in the current music scene. Tommy is working hard to get where he wants to be, and his music is certainly meant for everyone.
Tommy Shafer has the musical abilities that you rarely see in an artist of his age. He feels the songs he sings and makes you feel them too. Personally I think he could go very far and I look forward to watching how he develops and manipulates his career from here on out!
OFFICIAL LINKS: WEBSITE – YOUTUBE – FACEBOOK – TWITTER – INSTAGRAM – ITUNES
Please follow and like us: