Satgame (aka SAT GAME) is a hip hop artist out of Detroit with more music to his name than most of his indie peers. He came into this world at 8:03am on the 26th day of November in 1989 and since then has been doing whatever it takes to make his mark. This year he was featured alongside some of the most talented acts heating up the hip hop scene on Bongo Boy Records' Volume XVI, but soon enough he'll be impressing on his own once more with his Bentley Records release, My Bentley So Cold.
Many fans caught wind of Satgame back in 2014 when he dropped, Heart of a Warrior, Vol. 1 (under Sat Game). Since then he's released a cascade of music from "My Shit So Cold" to "Niggas Made Cause Dey Pockets Little." Within each of his tracks, listeners can find everything from lyrical finesse to raw hip hop ideals. Those are the qualities found in his previous releases and those are what to expect when My Bentley So Cold drops soon.
Satgame's music is available around the world, including Australia and Mexico. Those interested in adding new hip hop to their playlists, reviewing his music, or interviewing Satgame can reach out via the information provided below.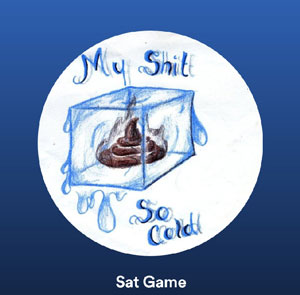 OFFICIAL LINKS:
iTunes: https://music.apple.com/us/artist/sat-game/875414083
Tidal: https://tidal.com/browse/artist/6331375
YouTube: https://www.youtube.com/channel/UC88I4BgKnJNzfQbVGnhMing
Amazing Tunes: https://amazingtunes.com/dawon-n-merritt/albums/43599
Amazon Spain: https://www.amazon.es/Retaliation-Explicit/dp/B01LC5EVWY/ref=sr_1_4?ie=UTF8&qid=1521611115&sr=8-4&keywords=satgame
Napster: http://us.napster.com/artist/sat-game/album/heart-of-a-warrior-vol-1
Deezer: https://www.deezer.com/us/album/11005890
Mixcloud: https://m.mixcloud.com/dawon-n-merritt/dog-wit-the-shits-watch-me-still-get-shook/?fbclid=IwAR34aQ8PIdprzHM1SkL21pndhVvDuZAHEXabRQZGoaYTuoUDHSGqbsDV_bI
Please follow and like us: