Yugoslavian born, Swedish based producer, Makalo, has shot through the music scene like a bat out of hell, forging era-defining credits with everyone from Young Thug, Pop Smoke, and DDG, as well as Tonee Marino, to the most elusive new legends of today's popular rap, hip-hop and trap music. That was until now. In fact, the producer, whose sounds can be found on a number of platinum albums, has added reggaeton to his list, as he clinched a game-changing credit with Puerto Rican urbano star Ozuna on the track "Envidioso" which is already clocking up numbers everywhere.
The sound design throughout is what we've come to expect: popping percussion, basses that melt like butter and a healthy dose of plucked guitar motifs to make everything bump straight to the charts. The good news is that Makalo is currently on fire, and he is striking while his iron is hot, so to speak.
Makalo has got collaborations setup with big Brazilian producers and superstars as well as some hot stars from the Balkan's. We cannot mention names right now, but songs for these collabs are planned to drop this summer.
In the meantime Makalo has also been busy, crafting and releasing, loop and sample packs. "My total aim and focus is to sell the best samples I have and do my best because I see them as an investment, explains Makalo. "That's the difference between my packs and a lot of other royalty-free packs. They keep their best melodies to themselves and their own beats."
Makalo's best productions cull from his deep understanding of  urban music past and present, which makes great use of skittering backbeats, shifting percussion and scintillating basslines in need of melodic lines, riffs and motifs.
Makalo actually has a popular sound pack out, called "Sounds of Makalo Vol. 1", which contains 147 Melodic Trap and Reggaeton samples in WAV format. It also includes various one-shots, FX, drums, and other percussions etc., totaling a sum of 205 audio files.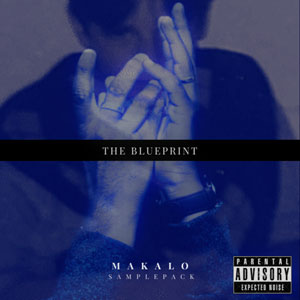 He also followed that up with another sound pack called "Sounds of Makalo: Deluxe", which is a sort of continuation of the previous release. This pack also features Makalo's signature guitar melody sounds, which are creating their own niche in the hip-hop and trap markets right now.
"The Blueprint – Makalo Samplepack" is his latest melody sample and loop pack that is receiving a lot of attention from the USA and Latino markets. However, you'll find lots more material on his website and specialized platforms.
Makalo has been one of those niche producers who appeal to wide swaths of fans from R&B, Hip-hop, Rap, Trap and Reggaton communities. Despite all of these different perspectives and musical abilities, Makalo manages to keep his singular vision in focus without getting lost in the noise.
Makalo continues to amaze in new ways with each subsequent collaboration. Now let's see where he goes next. The only thing we know for sure is that it's on an upward trajectory!
Hook up with Makalo on INSTAGRAM and find out more about him at his WEBSITE
Please follow and like us: