Elizmi has come a long way over the few years she has been an Independent artist. Spending most of her time writing while in lock down, she has been working hard top lining for extra money, just finishing writing another R&B track for an American artist.
Elizmi will be dropping a summer sensation too, which she also wrote in lock down. Written in Spanish and English, loving the party mood and the Latino beat gives you, she believes It's been too long, sitting around the TV or lap top and It's time to get your dancing shoes on.
She doesn't miss the opportunity to shout out to the girls here as she does in most of her tracks, giving the finger to the fakes and get the women to love and appreciate themselves. The song is about is partying, having a good time but not getting sucked in with the bull.
Now 23 Elizmi is becoming a well-rounded songwriter and artist with Streams on Spotify heading over the 100k mark and lots of peer nominations and support, she is proving that her music and voice is catching people's imaginations.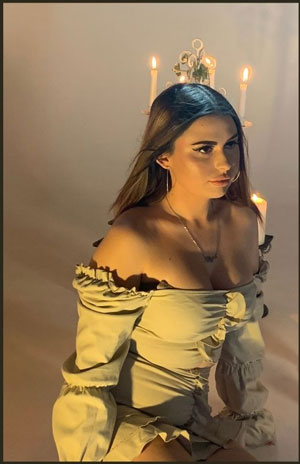 Since going on tour in 2019 and gigging all over the UK up until the beginning of the lockdown, Elizmi has missed live performances of late but has been keeping herself busy releasing her latest single "Come Through". Elizmi has managed to cope with the changes the music business has been through, due to Covid 19, by being positive.
Writing "Come Through" in her bedroom in lock down, Elizmi wanted us all to reminisce the love of the summer sun, sand and PARTYING the nigh way! Influenced by a number of genre she loves to mix and experiment with different sounds giving her tacks a unique sound but staying within the contemporary sound out at the moment.
But her true love is R&B, so you will find there is alway a certain amount of influence in her writing there. Her fans are looking forward to some new music and they sure will be happy with this one. Elizmi puts a lot of passion into her music, she uses the things she has gone through in her life so far, (she is only 23) She certainly has had an eventful life so far. She calls herself; aBBC 1Xtra and loving to gig all over the UK, She cannot wait to get back out there.
Touring in 2019 she was part of a small group of independent artists who went around the country visiting high schools and talking about bullying and entertaining the kids. This was a wonderful experience, giving her a feeling she was able to help the children who felt just like her when at school.
Elizmi has so many tracks now written in lockdown she is going to have to get them mixed and mastered and then maybe release them in an album. She did have a album project started last year but that got put on hold due to the lockdown, She will defiantly have to sort that out as it will be her debut Album and Elizmi hopes it will be more about mental health.
Elizmi suffers with Anxiety, so wants to help towards the stigma of mental heath problems making them all more acceptable, by helping everyone to be a little more educated towards mental health. Isolation has effected most of late so she is hoping lots of people will relate.
Born, 5th Feb 1998 In Kent, England, she grew up In Murcia, España but is now back in the UK. A Gold Songwriter of the Year ISSA 2022, Elizmi has won a nomination again for the prestigious Film and Music Awards from ARTEMIS FILMS. She also garnered 3 nominations for ISSA Music Awards 2021.
OFFICIAL LINKS:
Spotify https://open.spotify.com/artist/7gevmEBKZ1audPUatNpvAk?si=MCMylBqTQ2-C-mjfO0a36A
YouTube https://www.youtube.com/c/Elizmi98HE
Soundcloud http://www.soundcloud.com/Elizmi
Instagram http://www.instagram.com/elizmiofficial
Twitter. http://www.twitter.com/ElizmiOfficial
Facebook.com http://www.facebook.com/ElizmiOfficial
Please follow and like us: