Founded in 1996, Our Souls has paved a long road to 'The Beast Within.' They cemented their reputation in the late 90s and early 2000s with two records, 'Final Hour' and 'Kreislauf.' In 2001, the band went on hiatus, not to be heard again for a decade. Then, in 2011, the outfit embarked an entirely new journey, redefining their sound with 'War For Nothing,' a dynamic independently produced DIY production and release. With the arrival of a new lead singer at the end of 2014, however, Our Souls decided to take to the studio. The product of those sessions is 'The Beast Within.' Our Souls is made up of Bernhard 'Berny' Jagielki (Vocals), Florian "Flokke" Klähr (Guitar), Andreas "Andti" Damm (Guitar), Marcus "Linne" Lindemann (Bass) and Michael "Gruni" Grunert (Drums).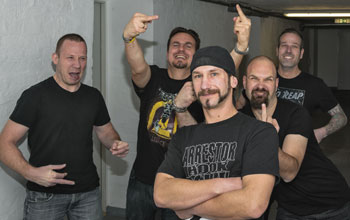 After spending the last few years in an experimental phase, Our Souls return with a brutal and crushing real thrash album that recalls the glory days of Slayer and Megadeth in some instances but goes a whole lot further. The production is really good for this album and it shows that Michael Grunert spent a lot of quality time on the boards. The guitars are definitely the highlighted instrument of the album – just complex enough and furious with tons of aggression. The depth, precision, aggressiveness and melody expressed on this album is fantastic. Bernhard 'Berny' Jagielki's demonic fiery rasp could instill fear into anyone who hears it, while Michael "Gruni" Grunert's drums thud continuously and are able to go at the speed of a chain gun.
The rest of the band is relentless too. What is spectacular about the music is the way it is executed; no holds barred just the right amount of guitars and bass, awesome vocals and atmosphere. It may have taken Our Souls twenty years to reach what will undoubtedly be part of their peak, but fortunately the stars finally aligned, and the band produced the album they've been trying to create since their inception; one that's worth getting genuinely excited about!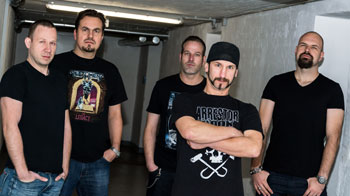 The opening title track, "The Beast Within" is a superlative example of what a tried-and-true metal band can still accomplish in this day and age, while newer American metal bands continue to fail to produce authentically decent music. On "Time Is Up" you can hear the drums, guitars, vocals, and the bass with extreme ease and clarity. The musicianship is flawless and if you have any doubts about the guys in Our Souls then you will completely change your mind once you listen to this track. From there on out it only gets better as it's apparent the band means business. "The Age Of Pestilence", "I Am Alive", "No Surrender" and "Leave Me Alone", are all standout tracks with ripping riffs, venomous vocals and some very impressive drumming.
There must be something in the water or air, in Germany, which allows so many Teutonic thrash metal heroes like Our Souls to perfectly accomplish what they do. All through this album, Our Souls just keeps expanding their sound and their music, and the metal just gets better and better. 'The Beast Within' is an instant classic; the sooner you buy it, the sooner you can get over the fact that you're a die-hard thrash metal fan and you haven't bought it already!
OFFICIAL LINKS: WEBSITE– CDBABY – ITUNES – GOOGLE PLAY – YOUTUBE – FACEBOOK – TWITTER
Please follow and like us: