Morwic is masterful with compositions that can come off as pure anticipation build to the uninitiated, an overly simple generalization for the sweeping crescendos, morbidly grand gestures and patient eruptions lurking in the album "Majestic" which deftly wields a cinematic flair. It's a thrill to hear Morwic's sense of control and conservative energy capping certain parts at a gentle murmur. In other words, the work here, produced with Logic X and Reason 8, is otherworldly.
If you are impatient, you'll dread wondering if some of the songs are going anywhere, but most listeners will be fully rewarded with the promise that even the most ominous music on here is leading up to something transportive.
Morwic tackles sound-tracking the quiet isolation of space with a smart emphasis on how ominous, yet how delicate and fragile its existence is. There is an almost chamber music reminiscent reverence, and stillness in some of these songs, calm before, after and during the storm moments lesser artists would completely bungle.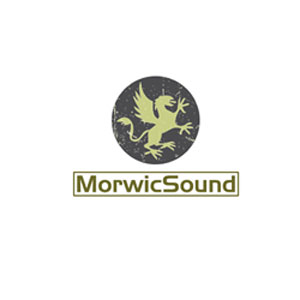 The album could probably be split up into two categories: 'soft' and 'less soft.' You will find almost no hard-hitting percussive phrases here or strong soaring melodies, and when the music does exceed past the level of 'mezzo forte', it is extremely powerful and will invigorate you.
It's a passionate set of soundscapes that evoke mystical emotion when one listens to it, relying heavily on its building atmospherics to pull the listener's attention. This is definitely one of those albums that will have a more potent impact if it was linked to moving pictures. That is not to say that the pieces do not stand on their own merits, but that most of them would make fantastic movie music.
I think listeners tend to get bogged down when listening to music of this caliber trying to comprehend the "meaning" of everything, while easily forgetting the true emotional core that is unfolding before them. This happens to me often, as I search for the 'hidden meaning' in music.
Sure there are plenty of ideas going around in Morwic's music and the album's storyline, but if you focus on the soundscapes at hand, you will be rewarded by emotionally resonating sounds it delivers. It is haunting and beautiful in places, dark and menacing in others, without ever becoming overwhelming. Morwic's main theme is uplifting and inspirational without being bombastic.
The music is just as compelling as the album's title would lead to believe.  Morwic's use of leitmotifs ( as opposed to melodies) in each song really brings a sense of emotion as he modifies the way the chords sound to connote the feeling in certain pieces while maintaining the over-arching theme of the album.
Obviously being more of a soundtrack-type or ambient album, the need to single out tracks makes no sense, as you need to settle down in a chair somewhere, turn down the lights, and kick this thing off from track one, if you want to be engulfed by its sonic experience.  Also take into account that Morwic's tracks are produced for 5.1 Surround Sound, and there's no doubt that "Majestic" will send you to the stars and back again!
OFFICIAL LINKS: WEBSITE – YOUTUBE – TWITCH – SOUNDCLOUD – TWITTER
Please follow and like us: