I know I keep coming back to this point, but it's something I feel strongly about. Since the late 90's, mainstream hip hop has taken an unusual and very unpleasant turn with the main focus being money, cars, women and the other materialistic things that have been the sole motivation for getting a record deal and releasing an album full of pure garbage. Thus, with the release of "Time to Waste", Key, The Baker gives the correct dose of hip hop that true fans would respect and appreciate. This 4-track EP breathes life into a genre that has seemingly lost its way.
Key, The Baker's laid-back lyrical ability is on display with the tracks "The Baker", "Used To Be", "13" and "Alright". These tracks may be downbeat, but they still really thump. Meanwhile, Key's flow is confident and articulate, and the subject matter is biting and personal. The beats supplied by Lary Byrd, Noah B, and L.B. Instrumentals are the perfect creative understatement and tone to match the brooding lyrics.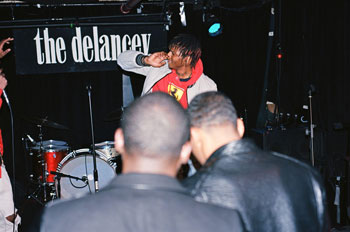 Their unbelievable ability to break the rules of production in hip-hop and deliver outstanding pieces of work, gives these tracks there edge. Traditionally, Producers tend to follow a certain structure in their tracks that is predictable and monotonous. The 3 producers here, acknowledge that structure, but tend to switch it up in a way that creates something incredibly admirable.
In my own opinion "Time to Waste" provides something that many hip-hop artists and groups struggle to deliver. It is consistent, comprehensive, and dynamic. The theme of this album is present in every single track without compromising the individual purpose of each song. This is important as many artists, especially in hip-hop, who attempt this approach, end up creating a collective recording, many come to find bland, or in other words say, all their stuff sounds the same. With this EP, the theme is there but not overwhelming.
Key, The Baker is most definitely a master of underground hip-hop. His dope beats and off-the-meter lyrics will definitely keep him on your playlist. To truly understand where Key is coming from, you need to really hear what he is saying. An easy task, considering he speaks in clear tones with a smoothly-paced style. Key is the real deal, and I have listened to his other releases and see a progression of quality and talent. You can hear the raw eclectic talent in this venture that puts Key, The Baker among the top independent rappers.
OFFICIAL LINKS: SOUNDCLOUD – INSTAGRAM – YOUTUBE – TWITTER
Please follow and like us: