Jushay Signature is a Chicago-based independent musical artist. She began her musical journey at the age of merely eight years old. Jushay is beyond profound about her musical journey as she is highly passionate about this field, and that passion is always reflected in her work. She has been making music for 10+ years and plans on never giving it up. Music is a part of self-discovery for her, but most of all, it has a therapeutic effect on her life.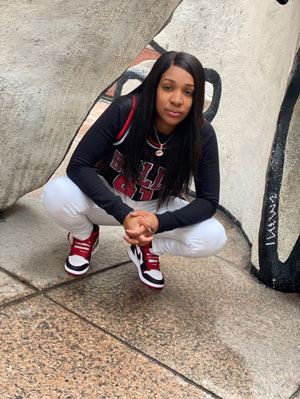 Criticism drives her more than anything, as she claims to love it when people underestimate her talent. She always finishes the job as she doesn't like to leave things hanging. Jushay's cousin introduced her to music such as Eminem, Lupe Fiasco, 50 cents, and the list goes on. Around that time, she was too young to know what her passion was, but she had a strong desire to discover how she could learn to use music as an outlet to tell her story.
Kendall P Beatz and KontrabandBeatz are some of the best producers, according to Jushay. She loves their knack for innovation and how they bring a different tone to each record. Jushay's song "Wake Up" is a crowd-favorite, but Jushay loves all the songs she creates equally. But if she had to pick one right now, she chose "Flex" as it is one of those records where I get the crowd involved when performing, and they love the affirmation in the beginning. Everyone is manifesting prosperity together, and there is a positive and fun vibe.
She has performed and enjoys it as it helps her connect with her audience better and inspires her to create more music. Her favorite artists to collaborate with are Drake, Kanye, Kendrick, Jcole, Rapsody, Jay Z, Juice World & XXXTentacion. And if she could open for any artist, they would be Young Ma, Missy Elliot, Dreezy, Cordae, Kanye, and Drake. She has never thought about quitting music but maybe retiring or creating impactful music; if not, she doesn't mind signing artists and helping them.
Subscribe to her Youtube Channel, Jushay Signature, and she got new music dropping on Apple, Spotify, and Tidal. Please go check out Bull in Da Jungle, Stand-offish, and Against Me. Her album Chicago Bull is out now; stream that! Get in tune; this history is in the making, it's been 10+, and she is still coming through strong and got the drive. She just hit 1,000,000 streams on "Against, Me," and there is more to come.
Connect With Jushay Signature:
https://linktr.ee/jushaysignature
Please follow and like us: