"Chicken Wings and Beaty Queens" has a mid-tempo hip-hop sound. The beat has a good mix of productions. The song is original and catchy. It has a really smooth vibe. It showcases great songwriting, and a great ability to staying focused on the song's topic, while the lyrics are very relatable. J.Clark aka ClasSick – who has a smooth flow and rhyme scheme, sounds confident during the intro and gives a great delivery in the chorus. A creative artist, and a great song results in a track with major potential.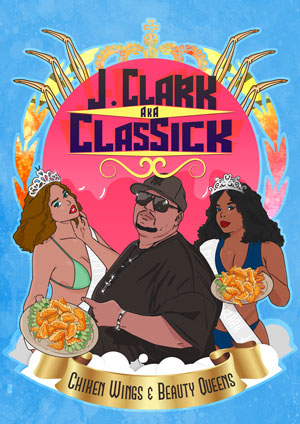 J.Clark aka ClasSick, also described as 'The Poetic Pioneer', says that he makes music the whole family can enjoy. His mission statement includes making music about his life, party music, love songs, and gospel rap. He strives to bring humor and thought provoking lyricism over dope beats.
His song "Chicken Wings and Beauty Queens" is meant to be a fun song. "Fried chicken wings and beautiful women are definitely two of my favorite things," say J.Clark. Hence it seemed to be an obvious theme for one of his tracks.
Born and raised in Kalamazoo Michigan, J.Clark maintains a good steady pace throughout the song, executing his style of flow flawlessly. Moreover rappers that take themselves too seriously get tiresome quickly. J.Clark does not fall into that trap, by keeping a lighthearted feel moving through his music. His sharp lyrics and smooth sound makes his music instantly accessible to tons of urban music listeners.
By keeping things the same distinctive with his rumbling sound and finger-lickin' lyrics, "Chicken Wings and Beauty Queens" achieves a good balance measured on the whole. J.Clark accentuates his words to let you know he has confidence in his rhymes.
And he should. Lyrically adept at talking about women and throwing game, and equally adept at dropping some fire for the underground. You can play this song all the way through just chillin'.
J.Clark has managed to carve out his own style, and  Chicken Wings and Beauty Queens" will not disappoint fans of the genre. Take a bite and wash it down, but don't be surprised if the taste is so good you can't help hitting J.Clark's musical buffet for seconds, thirds, and fourths.
OFFICIAL LINKS:
You can purchase "Chicken Wings and Beauty Queens" on Amazon:
https://www.amazon.com/dp/B07H7DQGS4/ref=cm_sw_r_sms_awdo_t1_DI9MBbVG5BZWH
Twitter-@TheLegendJclark
YouTube channel #JclarkComedy–
https://www.youtube.com/user/drclark84
Missionary Website – www.illcypher.2ya.com
Please follow and like us: