In the heart of Wilmington, North Carolina, a rising star is about to shine brighter than ever. Jay Meeks, the dynamic and authentic rap artist, is ready to make an indelible mark on the rap game with the release of his highly anticipated debut studio album, "All Without You."
Hailing from the vibrant streets of Wilmington, Jay Meeks is not just a rapper; he's a force to be reckoned with. His unique aura resonates with authenticity, and his raw talent has already captivated listeners, earning him the well-deserved title of a "New rapper on the rise." Meeks' ascent in the rap industry is not just a journey; it's a seismic event, and "All Without You" is the epicenter.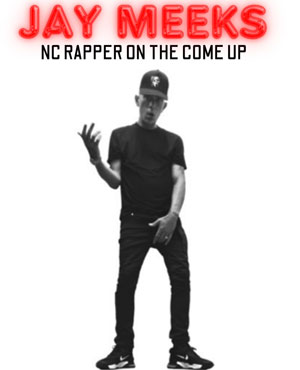 What sets Jay Meeks apart is not just his lyrical prowess but the enigmatic narrative he weaves into his music. The title of his debut album, "All Without You," hints at a personal odyssey that intersects with universal experiences, emotions, and a profound musical journey. The closely guarded secret of the release date only adds to the excitement and speculation, leaving fans and enthusiasts on the edge of their seats.
Adding to the buzz surrounding Jay Meeks is his newfound romance with the fascinating Chrisean. The hip-hop artist has been spotted around Wilmington with his new girlfriend, adding a touch of romance to his already intriguing persona. Fans are eagerly anticipating whether this newfound love will be a muse for his music, adding another layer of depth to "All Without You."
Behind the scenes, guiding Jay Meeks on his meteoric rise, is his astute manager, London. With a keen understanding of the industry and an unwavering belief in Meeks' talent, London is the architect behind the carefully crafted strategy that is propelling Jay Meeks into the rap stratosphere.
As Jay Meeks prepares to drop "All Without You," the streets of Wilmington are buzzing with excitement, and the rap world is on high alert. Get ready for an album that not only defines a moment but transcends it, as Jay Meeks gets set to take his place among the elite in the rap game.
About Jay Meeks: Jay Meeks is a burgeoning rap artist from Wilmington, North Carolina, whose authenticity and raw talent have quickly earned him recognition as a rising star in the rap industry. With his debut studio album, "All Without You," Jay Meeks is set to make a significant impact and solidify his position as a force to be reckoned with.
Follow Jay Meeks on Social Media:
YouTube: https://youtube.com/@JayMeeks
Soundcloud: https://m.soundcloud.com/jay-meeks
Instagram: https://instagram.com/jay_meekss
Please follow and like us: