The 500-pound Phish After Party: Kris Myers of Umphrey's Mcgee joins Members of local Chicago bands at Double Door
CHICAGO, IL – To celebrate the legendary Jam Band, Phish, playing in Chicago for two nights at Wrigley Field, local musicians will team up with the drummer of Umphrey's Mcgee for a unforgettable After-Party at Double Door. The 500-pound Phish After Party will take place on Friday, June 24th, beginning at 10:00 PM. After an opening DJ set by My Boy Elroy, the musicians will form two supergroups that will perform during the night. The first being a three piece, calling themselves Johnny Derp, will be comprised of Kris Myers (Umphreys Mcgee), Jesse Cryderman (Bifunkal), and My Boy Elroy (Liquid Soul). They will combine their years of musicianship to put on an epic electric funk set to open the night.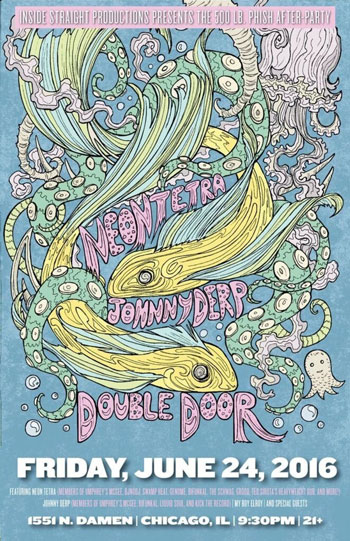 The second supergroup will consist of a slew of Chicago musicians once again backed by Kris Myers. Neon Tetra is made up of many local players, including Charles Otto (DJ noDJ/Grood), Patrick Dinnen (Genome, DJ noDJ), Igor Voltchenko (Genome), Jesse Cryderman (Bifunkal/DJ noDJ), Drew Littell (Cornmeal), Dan Moulder (The Schwag/CAUTION), and Ryan Wayne Tedder (Heavyweight Dub/Swamp Heat). All musicians have studied music, many in the Chicagoland area, including Myers who studied Jazz at both Elmhurst college and Depaul University. Some very special guests will also grace the stage throughout the evening.
Inside Straight Productions is hosting the event, while other Chicago artists also lend a hand with production, including Patrick Riley of Biolume Productions on lights, and neon and creative art installations by Lindsey Liss. Tickets can be purchased here and are $15 in Advance and $20 at the Door. A VIP package is also available for $45 and includes a shuttle from Wrigley Field, a ticket to the show, free drinks on the bus, a Bifunkal CD, and a show poster. Doors open at 9:30 PM and the show is set to start at 10 PM. More information can be found through DO312 and Facebook.
Johnny Derp
Johnny Derp weaves together live instrumentation, DJ production, beat boxing, and electronic music into the best time you can imagine. You will dance. You will smile. You will feel like you're on the inside of an inside joke.
Members:
My Boy Elroy: Production, Beat Boxing, Turntablism (Liquid Soul – Grammy Nominated)
Kristofer Myers: Drums, Percussion (Umphrey's McGee) l Jesse Cryderman: Guitars, Vocals (Bifunkal, Taggart Transcontinental)
Neon-Tetra
Did someone request You Enjoy Da Funk? Done! Neon Tetra combines well known melodies from the legendary jam band Phish with popular dance tracks from groups like LCD Soundsystem, Justice and Daft Punk.
Members: Patrick Dinnen: Bass (Genome, DJ noDJ) l Charles Otto: Vocals, Guitar Synth (Grood Music, DJnoDJ) l Igor Voltchenko: Guitars (Genome) l Jesse Cryderman: Guitars, Vocals (Kick The Record, DJnoDJ, Origin of Animal) l Kris Myers: Drums, Percussion (Umphrey's McGee) l Dan Moulder: Keys, Vocals (The Schwag, Tom Schraeder & His Ego, CAUTION) l Ryan Wayne Tedder: Ewi, Sax, Synth (Swamp Heat, Heavyweight Dub) l Drew Littell: Drums, Percussion (Cornmeal)      
About Inside Straight Productions
Inside Straight Productions is a full-service entertainment production company based in Chicago. It has been producing public, private and corporate events since 2010. Clients include Hawthorne Race Course, Carnivale, Write Now Go, Pipeline Publishing, and Chicago Music Management. Inside Straight Productions works with a wide variety of Chicago-based bands and entertainers. For more information, contact Jesse Cryderman at jesse@insidestraightproductions.com
About Panici Promotions
Chicagoland native, Meagan Panici has been bringing bands and fans together since 2008. Her work consists of a combination of street teaming, PR, print and social media promotion. Her main goal is to get venues filled for young and emerging artists. She has successfully done so for bands in the Chicago area as well as other areas in the midwest. For more information, visit her Facebook Page: www.facebook.com/megpanici
Please follow and like us: