Alex Boye' was ranked by YouTube as the #1 voted cover artist of 2014. His "Lemonade" song was picked up by Radio Disney and charted at #2 on Billboard's Gospel Digital Charts. With over 260 million+ views on YouTube, Alex Boye' is a formidable solo artist. The Award winning singer and songwriter, best known for his African twist on American pop and ethno -classical music has already had collaborations with Jennifer Hudson, Peter Gabriel and Melissa Etheridge.
The Alex Boye' EP, "We All Bleed The Same" has finally been unleashed upon us.  Is it good? Is it deep? Is it something that the listener can tell was crafted and cared over, rather than just thrown together to make a quick buck? For me, the answer to all of the above questions is very much positive.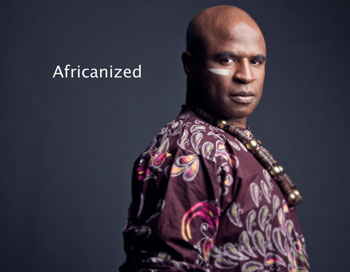 This is a great EP. It has songs that are upbeat, songs that are poignant and hit home, and overall a very large amount of depth and feeling. If you are a person who can appreciate music that comes from an artist's soul, describes the events that formulate our lives, but still has a beat and will put you in a good place after listening to it, I would highly recommend that you get "We All Bleed The Same".
Alex Boye' is giving us an EP that showcases why many of us fell in love with his music in the first place through his YouTube performances. He has that great ability to possess a song that you thought was going in one direction and take in a totally different direction in a matter of seconds.
Case in point, his astounding version of the epic "7 Seconds" which features Marabeth – the soaring melody, the beautifully arranged music, and the inspiring words, are taken to a new dimension.
Notwithstanding the fact that these songs sit firmly upon upbeat EDM beats, the sound, the words, and the music are bathed in a graceful soulfulness that slowly seeps into your musical psyche as you listen to each track. Let's be honest: Alex Boye' could sing the phonebook and we'd all still listen.
His voice is soulful, distinctive, and a welcome breath from the usual radio gymnastics. He just boils with emotion and conviction. And it's apparent from the opening title track, "We All Bleed The Same". Alex emerges as a passionate performer who puts his mind, heart and guts into every song, and this is especially true on "Heart Of A Lion".
However Alex is in his element and in full force with his vocal stylings juxtaposed against an atmospheric guitar cacophony of sonic delight on "Watch Me Fly". Again, on "Arms Around The World" he delivers an unbeatable combination of meticulously produced tunesmithing with an evocative soaring vocal delivery.
Right throughout this EP, the entire production and performance quality  does not disappoint. A true diamond in a field of present day musical mediocrity, don't deny yourself another minute of missing out on this most unique and legitimately gifted performer, that is Alex Boye'.
OFFICIAL LINKS: TWITTER – FACEBOOK – INSTAGRAM – ITUNES
Please follow and like us: