Los Angeles-based singer-songwriter and multi-instrumentalist Wil Key, is embarking on a twelve-country musical expedition to record the follow-up to his 2018 album entitled Globetrotter: Side A which made it onto the official Grammy ballet last year for Best Urban Contemporary Album and Best Traditional R&B performance. The Side A project was recorded in 11 different countries and features over 40 artists and musicians from around the globe.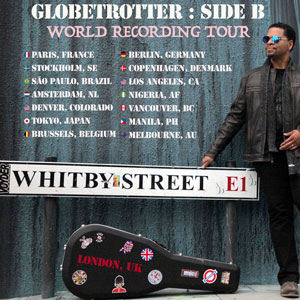 Each song on this follow-up project, entitled "Globetrotter: Side B," will be recorded in a different country beginning with a stop in London, England (UK) where the artist just recorded at SOUP Studios (East London) – one of the most unique recording studios in the world. The well-stocked facility is housed on-board Lightship 95 – a re-purposed cargo ship moored and actively floating on the River Thames.
Recording for Side B continued in Paris, France at Studio Copella with Iranian-French Jazz artist, Ellene Masri – a soulful singer and poetic lyricist in her own right. Wil has also enlisted the talents of Netherlands vocalist, Romy Dya (David Guetta, Martin Garrix), who just performed vocals on a brand new original song written by Key entitled "The Window." The infectious, guitar-driven anthem is a stylistic departure for the artist and was inspired by Amsterdam's infamous Red Light District.
Other countries on the agenda include Germany, Australia, Belgium, Africa and Japan.
OFFICIAL LINKS: WEBSITE – YOUTUBE
Please follow and like us: