Voice of Men is a vocal harmony group who gained fame by marching straight to the finals of a famous singing reality TV-show in Malaysia. Their first single "Laungan Cinta" gained international acclaim and reached to top-30 in a Malaysian radio charts. The music video was nominated for Best Music Video in VIMA Malaysia. Voice of Men has been offered multiple record deals, but decided to stay independent in order to keep doing the music they love on their own terms.
Voice of Men now release their brand new single entitled "This Is My War" (TIMW), which will be used as soundtrack for a film of the same name. The track was premiered on notable radio stations in the US, UK and Malaysia and is already available for download and streaming on iTunes, Spotify, Google Play, Deezer, KKBOX.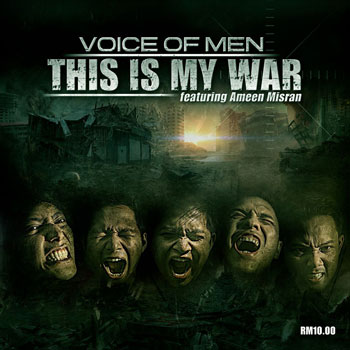 TIMW features the acclaimed rapper Ameen Misran, who also the created the lyrics for this song and inspired Voice of Men to make a gigantic leap from their usual in Pop and R&B style to the rock-induced power sound necessary for this single. As someone who listens to large quantities of music from mainstream to indie, I contend that few independent bands have mastered the art of rap-pop-rock like Voice of Men has here.
"This Is My War" depicts Voice of Men's position and importance in the modern independent music industry. Their innovation and musical patterns, flows as an endless river full of ideas and visions. The band has matured in both their sound and their creativity, which will, no doubt, translate well into their performances. Fans of music with a strong rap-rock crossover style like are going to eat this track up and love every musical morsel of it. The music was written by Firdaus Mahmud, while Ameen Misran took care of the lyrics. "This Is My War" was mixed by Zulkarnain Kamaruddin and mastered by CL Toh. The artwork design is by Taha Khusaimi.
There has often been the debate over the years about whether rock-rap was going to live on for a while or fly off into history next to other music genres that were short-lived. Well it is still here, and I, personally, think that rock-rap will live on as long as it wants if talented artists like Voice of Men stay behind the wheel of its driving force. Before anyone dares to stereotype this and throw it on the shelf next to their dust-growing albums of the same type, "This Is My War" definitely deserves several listens, although just one spin should get you hooked straight away!
OFFICIAL LINKS: WEBSITE – FACEBOOK – YOUTUBE – TWITTER – SPOTIFY – ITUNES – GOOGLE PLAY
Please follow and like us: