You would be very hard pressed to try and describe the sound of UNAKA PRONG except as some kind of convergence of six talented musicians who bring an aural party to your ears. The band's debut album, "Margot" showcases the group's diverse range of musical styles from progressive rock to jazz and blues-influenced funk grooves. The album really does have something for everyone who truly loves music and it is a journey that you will want go down often. It will grow and develop after every listen and you will find favorites and discover riffs, phrases and progressions you didn't hear the first time around.
One admirable quality that is rarely found among bands today is a willingness to take risks and the band consisting of Drums, Vocals – John Hargett / Guitar – Mike Welsh / Trumpet, Vocals – Nic Pressley / Guitar, Vocals – Daniel Stevenson / Bass, Vocals – Jonathon Sale / Keyboards – Chris Pope, definitely take many musical risks on "Margot". Mixing so many styles and sounds could so easily have lead UNAKA PRONG directly to a Jam band name tag.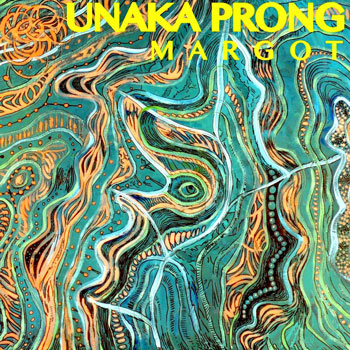 I think Jam bands are fun, but after a certain point they can become boring and less meaningful.  UNAKA PRONG's songwriting allows listeners to follow the groove, so to speak, or branch out into other listening pleasures. Personally, I always found the grooves nuanced, passionate, rocking, and infectiously funky. There is no better place to find essential essences, than on the tracks, "Clifford", "Lake Jam #2"and "Truffle Shuffle".
UNAKA PRONG incorporates many ideas and styles that only enhance their kaleidoscope of sound, and Mixing Engineer Chris Pope blended these elements together for a harmonious feel. The musicianship of the instrumentalists is stirring, and what they are saying through the music is brilliantly articulated through the intimate, Beatles-ish vocals on "Anxious Summer", the sprawling guitars and horns on "Hella", the keyboards on "Road Rash Blues", as well as the drum and bass work on "PTB".
To be honest "PTB", just about sums up the performance qualities of the whole band, as does the epic, "Little Animal". If they are able to create this much magic on a studio effort, I can only imagine what they conjure up at their live shows. In fact, I'm pretty sure that only a live show can truly do these boys justice, but this 9-track recording is one helluva snapshot of where UNAKA PRONG are as a band right now.
The resonating sound of the horns, the groove of the music, and the occasional vocals make this a very enjoyable listen.  There are certain bands that find a niche in the groove universe and explode into another galaxy. UNAKA PRONG is certainly one of these bands, except they explode into many galaxies. If you like extra tight soul-shaking music, grab a copy of "Margot" and prepare to be transported by North Carolina's brightest and tightest. You can engage in the solos and the arrangements, or you can just sit back and let the grooves do the dirty work!
OFFICIAL LINKS: WEBSITE – FACEBOOK – YOUTUBE
Please follow and like us: