"Can't Buy a Southern Girl" is a 5 star collection filled with many highlights, as Donica Knight and her band master so many styles of American roots music, and across the 5 tracks here, she delivers the goods. Start to finish this is a collection that gets you moving with so many grooves and textures while Donica takes charge and shapes these lyrics into deeply emotional sonic gems. From soul shaking rhythm & blues influenced songs, to straight rockers, and barn-stomping Country tunes, she's got plenty to sing about. Donica Knight's voice is very pure and dynamic. Her songs are also clever, driven, gritty, straight to the point, and downright catchy – a perfect blend of commercial and straight rocking groove.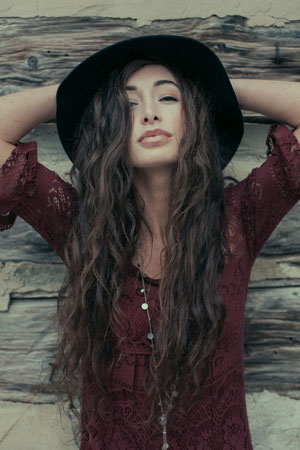 "Can't Buy a Southern Girl" held my attention from the cracking opening track, and lead single "Love Ain't a Prize" to the EP closer, "Stomp", and each tune is distinctive, with surprising twists and turns throughout. In fact, there are plenty of songs equally as strong as "Acting Like a Lady" and "Blinded By Love", if not stronger – a few may prove to be super crossover singles for her.
And the production by Jim Huff (Joe Bonamassa, Holly Brook aka Skylar Grey and 2015 Grammy nominee Dave Yaden) is top shelf. Nuanced, developed, and realized. The band itself is melodic, sensitive and on total overdrive throughout.  Donica captures real life and love as it is for most of us. I'd say most of us have had a lot of the same experiences and feelings, admit it or not. There are no dogs on this EP, which proves to be eons above the third grade standards of today's Nashville.
I don't think it is fair to compare her to any of her female contemporary country peers, as Donica Knight practically covers a whole lot more musical zones, crossing borders and boundaries insurmountable for some. There are pop-wise hooks all over the place on this recording, but the melodies and rhythms are not undermined by shallow clichés that seem to make their way into so many other songs you are hearing on the radio. There is solid hard-hitting content throughout the record.  If you can't find something to sink your teeth into on this record then listen to it again, because you have missed something.
The music is contemporary with plenty of drums, bass and electric guitars, but you'll also hear acoustic guitars, saxophone, piano and the Hammond B3 organ on the tracks. It may sound corny in today's music world, but I really appreciate the mixing on this album which allows you actually individually hear the instruments, and understand the lyrics of the songs, without having to read the liner notes first. I actually read them later, just to confirm my conclusions.
Powerhouse singer-songwriter, Donica Knight is very spirited performer and takes no prisoners; she has more in common with the singer-songwriters of the 60's and 70's than with modern pussyfooting, pop merchandisers. She can raise a humdrum lyric into something with deeper meaning, with just a switch in her tone. Her music can be deemed mainstream, on the surface but there's stuff lurking underneath which makes this record rise above. "Can't Buy a Southern Girl" doesn't sound like a collection of songs just thrown out there to see if it sticks, but plays out like a labor of love. It shows her strengths, all neatly assembled into one place!
[quote bgcolor="#dd9933″]MORE ABOUT: Donica Knight is an acclaimed singer, songwriter and entertainer hailing from Montgomery, Alabama. Donica has opened for both, country and rock superstars, as diverse as Lynyrd Skynyrd, Styx, Hank Williams Jr., Kid Rock, Luke Bryan, Jake Owen, Kenny Rogers, Little River Band, Skid Row, REO Speedwagon, 3 Doors Down and many others.  She has also written and recorded duets with country legend, Ronnie Milsap and has worked in the studio with Platinum selling and Grammy nominated producers, Mickey Jack Cones, Blake Mevis, and Rob Galbraith.[/quote]
OFFICIAL LINKS: WEBSITE – FACEBOOK – TWITTER – ITUNES
Please follow and like us: