The fact that rappers are emerging at much younger ages today, should is no surprise. That many are coming from Europe, even less so. With all the technological tools at hand, the world of rap and Hip-hop, just like any other genre, has become a small place where anybody with determination and savvy, can find a way in. Hence we're able to discover artists like 15 year old Truckr, who comes all the way from Finland. The up and coming young creator dabbles in a blend of sounds which include Witch House, Trap, Cloud Rap and Black Metal. He started listening to rap back in 2013 when he discovered Eminem via a hoodie his mom had bought him. He thought it was too big, but his mom replied: "No you look cool. You look like Eminem." Not knowing who this was, Truckr looked the artist up on his dad's computer, and a few days later he wanted to be like Eminem.
A year later Truckr was getting into Swedish rap, as well as Migos and Future. A member of a worldwide collective called Dying4Nothing, Truckr has currently released his mixtape, entitled "Empty Road 1", while he is already working on the follow up, "Empty Road 2". If you value new wave rappers based on their ability to perform over eccentric beats, then Truckr wants to exceed listeners' expectations. His beats are bombastic, gritty and oftentimes distorted.
And while "Empty Road 1" is certainly is focused on boisterous and rowdy production, showcasing disparate elements of electronic, alternative and rap music, into one all-encompassing journey, lyrics are still essential to this musical adventure. While each song has a solid musical backbone, and cinematic samples, its Truckr nuanced narratives that make the most profound impact, and move the mixtape forward.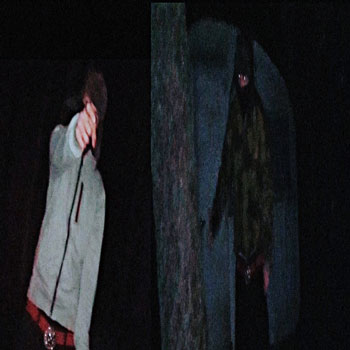 Moreover, Truckr seems cocksure all the way through this mixtape's runtime. His dynamic flow –which is sometimes rhythmic and at others melodic – reflects just how confident he is in his mic skills.
It's precisely how over-the-top the mixtape is that settles it as one of the unusual hip-hop releases of the past year. Truckr's lively lyricism and the brilliantly schizophrenic and experimental production form an interesting blend.
From the melodic "Empty Road Intro", to the dark haze of "Nightmare", and the booming bass drive of "Hurts", the release benefits greatly from the non-stop transition from one track to another. In essence, this mixtape does things most other rappers don't approach with such ease.
Truckr's music has no boundaries, as he keeps moving his sound forward. From the ethereal slow-burning chime of "Hesitate", to the wall of synths and sirens on "Truckr Real", he continues to experiment with his sound.
On "18 Wheels" ft. Plaza, Truckr drops the vocals down low for a haunting and ominous sound. He applies the same spooky vocal effect to the bonus track "Die Alone". At 15, Truckr seems to have a clear idea of the musical path he is walking down.
Though grabbing influences from popular mainstream artists, Truckr's music is decidedly alternative. He brings an insurmountable level of energy and sonic diversity to every song he touches.
OFFICIAL LINKS: INSTAGRAM – SOUNDCLOUD
Please follow and like us: