Tom Raistrick is a 20 year old artist from Oxford, UK. He makes ambient electronic music and has recently released his debut EP, 'The Brutal Simplicity of Sound' on all major digital store platforms. The album plays out like the music you hear playing down the echoic halls of modern buildings, before the people arrive. It is compelling, elusive music that you can never quite reach, when your eyes are still cloudy with sleep. The opening track, "A Sail to Catch the Wind" is full of big, fuzzy swaths of brightly lit fog, sort of like the soundtrack for happy, meandering ghosts.
However, thanks to some of the ambient soundscapes from "Lost Soul" to "Breadcrumbs", you can easily shut your eyes and discover that you're actually on a beach along the Hawaiian island chain, at "Sunset", with waves crashing on the shore, sun-kissed twenty-something's chilling in the sand, and warm, tropical air hugging you like a cozy blanket. If you find yourself in that situation, don't be afraid, forget about the meandering ghosts, and just follow the girls until "Sunrise".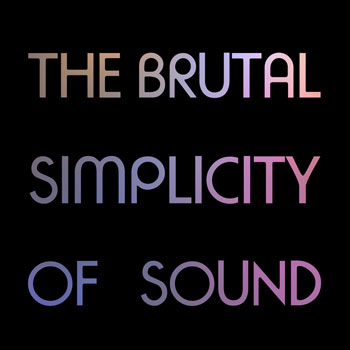 The songs are mellow and gently intricate, and you'll find yourself closing your eyes and taking off for your own mindscape. I really enjoy Tom Raistrick's ability to gradually ebb and flow the music while building sophisticated underwhelming crescendos. It almost feels like a movie playing inside your head.
The signature warm and ambient sound of Tom Raistrick's electronic tools, puts these songs in a cool perspective no matter in what context you choose to listen. Ambient music can sometimes have the tendency to be boring, but 'The Brutal Simplicity of Sound' blends sounds which contribute to the beauty of listening to this EP under any circumstances. You can tune out, you can engage it intellectually and this EP will surprise you on both levels. It is capable of transporting you to another place and eliciting a feeling of weightlessness, as if the only thing limiting your ability to fly is the ceiling above you.
'The Brutal Simplicity of Sound' is really relaxing and conjures imagery in your mind's eye. It tells a story, and you can tag along to see the story unfold. What you perceive is largely determined by your mindset at the time you listen to it. If you are stressed out, it most certainly will calm you down. If you are already calm, you may reach a meditative state. The wondrous thing about Tom Raistrick's music is that it is subtly engaging without clamoring for attention – your mind will follow it without worrying about where it's going. It will seem to know naturally. 'The Brutal Simplicity of Sound' is probably best listened to with headphones while lying down in the dark, when you don't have anything on your agenda for the rest of the day.
OFFICIAL LINKS: SPOTIFY – ITUNES – AMAZON
Please follow and like us: