The Two's is made up of Ruby Rendrag on vocals, guitar and foot-drum kit, and classically trained Cellist, Suki Kuehn. Together they have opened for such acts as rock legend Heart, international pop star Zucchero, Dave Matthew's side man Tim Reynolds, and have placed music on the Emmy award-winning show Nip/Tuck. Recorded in New Orleans by Adam Keil, their five-track EP "Push On", was mixed by Ben Lorio and Grammy winner Sylvia Massy. If you are curious whether or not this album is worth having. I promise that it is. This album, from track one, is soul shaking. It reaches in and touches you even if you are the most hardened person in the world. The passion, the feeling, the soul in just one of these tracks is enough for multiple albums of any other band. Yet the The Two's pack it all in to each of their songs, and produce an album that is not only critically acclaimed, but one that is rightfully worth all of the hype.
Such pure emotion is hard to get from any artist. Some musical duos click, others are less than the sum of their talents, and then there are those that are synchronized in an uncanny way to seem one single entity. The Two's fall into this latter group. Ruby is a very eclectic guitarist with an unusual but effective percussive style of playing.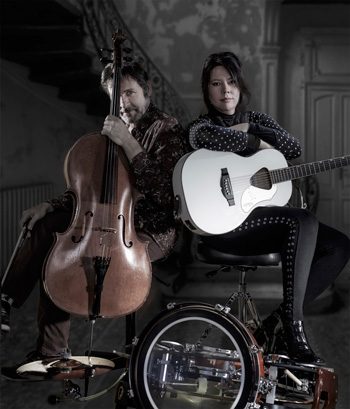 Suki is a trained Cellist, and it shows. What they've mastered is the ability to add to the songs at just the right moments and not overwhelm the music. No other duet I can thinks, has the same organic blend of voice, tones, timbres, rhythms and dynamics.
From the moment the EP opens with the enchanting "Ms Jones", this becomes a recording of short stories. As the songs become familiar they become clearer. Then you realize you have been in those shoes or at the very least, standing next to the person wearing them, in these songs. The chemistry between Ruby and Suki is one of those effortless artistic combinations which traditionally implies a telepathic bond forged between the two.
As the Ep moves forward, through the quaint rhythms of "City of Gold", the more fleshed out dynamism of "Lullaby", and then on to the hushed jangle of "The Letter", and finally to the resonating instrumental,  "Baked", The Two's make an electrifying patchwork puzzle out of Americana roots music, stitching together a little bit of everything.
Gothic-folk, sensitive singer-songwriting, razor-edged bluegrass, dainty parlor rhythms and corporate country stomps, as well as folding in delicious slivers of classical eloquence. Sleek but not slick, their songs have the gift of familiarity.
The catalytic element, however, is the chemistry between the two. The potency of their entwined skills lends their music an air of passionate intimacy which rubs off on the listener. If Ruby Rendrag's voice and full immersion guitar and percussion has star billing, much of The Two's mood-inducing atmospherics leans on Suki Kuehn's reverberating Cello.
The level of intricate and melodious songwriting demonstrated throughout "Push On" is instantly striking – inviting anyone to connect with it regardless of its genre. And on the evidence of this EP things are just starting to get interesting for The Two's. Who knows what they have planned next.
OFFICIAL LINKS: WEBSITE – FACEBOOK – TWITTER – INSTAGRAM
Please follow and like us: