Lesley Warendorff (Guitars, Vocals), Benjamin Lampe (Drums) and Josine van der Splinter (Bass) make up the Netherlands-based rock band, The Limiters. The collective has just released its 5 track debut EP, "Somewhere In Between". There are so many things right with this album and its production that I don't know where to start. First off, I think that the lead vocalist for the band, Warendorff, has such an incredible tone that catches your attention from the start and never lets it wander. Next, the band itself puts forth some instrumentals that are great all on their own. Together their exciting and addicting mix of grunge and alternative rock flavors, keep your ears glued from start to finish. Like so few other band's, The Limiters have managed to create an album that is not only thematically cohesive, but listenable beginning to end. One of those rare 'almost perfect' recordings.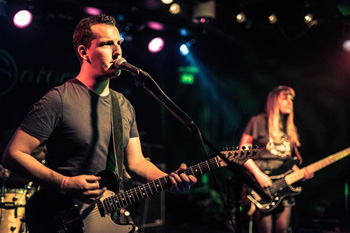 It's improbable you'll easily get tired of listening to "Somewhere In Between" because it pairs dark, deeply felt emotion with serious musicianship. Not one note is a throwaway. Everything is precise, especially Lesley Warendorff voice. Listen closely and you will find that the singer's insights and observations are perceptive and deeply felt. I listened to it often because it speaks to me. Warendorff's voice together with the music engages me deeply on all emotional, spiritual, intellectual, and musical levels. It will without a doubt, pretty much do the same with you.
The Limiters put their steel-capped boots on and slowly grind you into the dust with 'Short Term Memory', a sinister and grungy industrial groove. The trio just sound extremely good when they're reveling in their strengths as performers, drilling home riffs, basslines and drumbeats with power-tool precision and conveying supreme heaviness with the most casual of gestures. It hardly gets better than this mesmerizing slow burner, which forges brooding complexity, while glistening with the loose sinew of its organic instrumentation.
The taut, sweaty sheen of the title song "Somewhere in Between" races ahead without a stutter, showcasing scorching riffs and an adrenalin-pumping rhythm section, made up of swaggering bass lines, the hip-grip madness of over-driven guitar noise and the full-on hustle of clattering percussion. A two-and-a-half-minute aural epic of pounding guitar brutality interspersed with intense laser-sharp stun-gun vocals. The song gathers the best elements from the blistering gumbo of The Limiters performance armaments.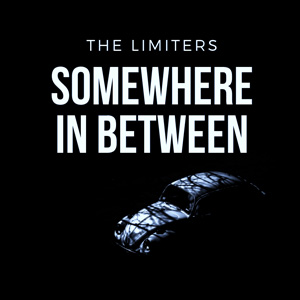 A moment of poignant introspection comes in the form of "Wrote You a Song", the second single lifted off the EP. Whereas the other tracks let their high energy and heavy, fuzzed out musical chemistry assault the ears of the listener from the get go, this song instead lures the listener in with a carefully constructed atmosphere of jangling guitars, moodily simmering basslines, thudding drums, and a stunningly affecting lead vocal from Warendorff. Best of all, it still remains a gritty recording that puts the guitars squarely in the sound spectrum.
The abundance of different guitar tones on the EP is one of its best features, which allows the band much more versatility. The textured, guitar sounds that make up so much of the record also perfectly compliment Lesley Warendorff's voice, allowing him to build up plenty of layered washes of melody before bursting into trademark driving rock choruses. "Revenge" is one of the songs that perfectly encapsulates the aforementioned formula – an energetic garage paced groove bound to churning guitars and a swirling vocal delivery.
By the time you arrive at the EP closer, "I Should Have Known", you realize that besides the thick rhythms and flowing melodies, The Limiters are able to play so convincingly and with so much flamboyance that their passionate playing adds weight to every track. It makes every hook, every thump of the bass, every blistering solo and drumbeat that much more authentic. The band's performances across this EP reaches pulverizing intensities with a sense of experimental variety and polished eclecticism. This puts them way ahead of many of their contemporaries.
OFFICIAL LINKS: FACEBOOK – INSTAGRAM – TWITTER – SPOTIFY – YOUTUBE
Please follow and like us: