Suave DaGoat, the lyrical maestro from the golden state of Maryland, has just dropped a sonic bombshell on the rap scene with his latest release – "The Epitome". This scorching 6-track EP serves as a clear message to the world that Suave DaGoat is not only here to stay, but he's here to reign supreme. With a unique delivery style that drips with confidence, hunger, aggression, and a relentless determination, Suave DaGoat sets himself apart from the rest of the pack. Throughout this recording, Suave effortlessly proves that he's the true embodiment of excellence, the epitome of lyrical and performance supremacy.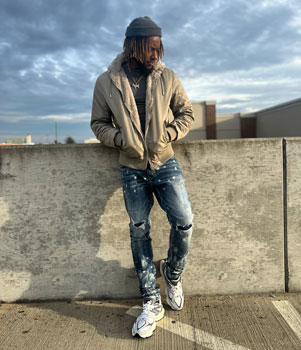 From the heart-thumping beat drops to the slick and sizzling lyrics that are delivered with laser-sharp precision, Suave DaGoat's "The Epitome" is a masterclass in raw talent and unadulterated swagger. He doesn't hold back, he doesn't take prisoners – he just delivers each track with a fierce and uncompromising intensity that will leave fans and critics alike in awe.
With his latest release "The Epitome", Suave DaGoat has crafted a tight and explosive record that wastes no time in making its mark on the rap scene. Clocking in at just under 20 minutes and boasting a lean 6 tracks, Suave makes every second count, delivering a masterclass in both quality rapping and production.
The opening track, "Free Smoke", sets the tone for the EP with its ominous synth bass and haunting keys that build into a throbbing beat. Suave's delivery is nothing short of murderous, as he unleashes a lyrical onslaught that's sure to leave listeners on the edge of their seats. But it's not just his rapping that's impressive – the production quality is top-notch, making for an electrifying experience from start to finish.
Throughout "The Epitome", Suave DaGoat continues to bring the heat, with tracks like "Sky Is The Limit" showcasing his lyrical prowess against the backdrop of a horn-filled cinematic instrumental. But it's on "3 Minute Pleasure" where he truly shines.
The track features an ethereal and soulful hook floating atop a thunderous bass boom. Suave's insistent flow and abrasive tone add a layer of grit to the production, making for a standout track that's as memorable as it is impactful.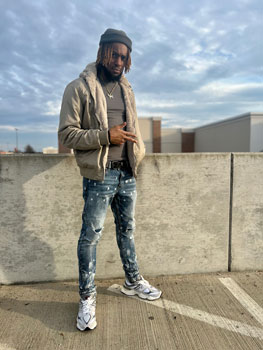 The song "Superbad" is also equally as hard-hitting. Lyrically and flow-wise, Suave DaGoat sounds even meaner than he did on the previous track. The opening lines, "Yeah I know why they mad, I went got a bag," sets the tone.
Suave DaGoat is aware that his success has made him a target for envy and criticism, but he remains unapologetic about his drive to secure financial prosperity. He compares himself to the fictional character McLovin from the film "Superbad," suggesting that he's achieved a level of coolness and success that is unmatched.
The lyrics of "Mood" exude a sense of power and dominance, with Suave DaGoat proclaiming his superiority and warning his enemies to beware. Suave also takes a shot at those who imitate their style, suggesting that they are mere copycats who cannot match his originality and authenticity. He express a willingness to do whatever it takes to stay on top, even if it means resorting to extreme measures.
The EP closes on a high note with "Another One", where Suave DaGoat's claims of being "the goat", and the constant repetition of "you know the drill" suggest a confidence bordering on arrogance. The lines "Don't forget I'm coming at your Neck better button up / How you let them young niggas Turn you to a sucker bruh" are particularly confrontational, indicating a desire to take down those who have crossed him.
So to anyone who wants to step up and challenge the throne, be warned – with "The Epitome" as his calling card, Suave DaGoat is coming out guns blazing, ready to take on all challengers and prove once and for all that he's the undisputed king of the rap game.
OFFICIAL LINKS:
https://instagram.com/suave_dagoat?igshid=YmMyMTA2M2Y=
https://twitter.com/Suave_DaGoat
https://www.facebook.com/ricco.suave.503?mibextid=LQQJ4d
https://distrokid.com/hyperfollow/suavedagoat/the-epitome
Please follow and like us: