Solmate's debut single, "Moonlight", is both an exceptional sound and experience. Perhaps there should be one qualification in that it's not for everyone in the electro Techno world. Solmate's elegant, understated vocals glide gracefully over the gentle electronic arrangement.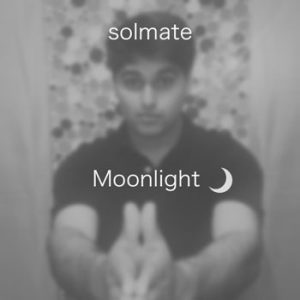 The music turns rhythmically in subtle shades of tone and mood like sunlight through swaying branches on an eternal afternoon. Serene and heartfelt, Solmate conveys a wistfulness so profound that it is almost sedating. The music magically transforms that pensive mood into something beautiful, poignant and ultimately powerful.
Try listening to "Moonlight" on dreamy day. You'll find yourself asleep while you're awake, dreaming of lost loves and hazy afternoons in bed and intoxicated – those moments that ended, even though you never wanted them to. Those moments you thought you'd long since forgotten.
Solmate and his music are so much more than just lyrics and instruments. He creates feelings and images in your mind, and a dreamlike state where things can become surreal, almost like a whisper. To truly understand this, I think you need to listen to this track with the lights off or at least with your eyes closed. Then just listen to the words:
"Should've looked for you before,
Just wasn't thinking, looking.
It's like my deck was full,
And my ship was sinking.
The nights were lonely,
So one day the moonlight…
Showed me you were there all along,
And not hard to find."
Rock or more aggressive music allows the explosive venting of pent up emotion but Solmate offers a slow bleed that is so relaxing yet exciting at the same time. He also offers up something lacking in some music, hope. This is almost ambient sounding, and a lovely piece of music. This song transcends time and floats along in a warm and soothing aural experience. Solmate's voice sounds like just another instrument in a symphony of tranquility.
In fact voice and music form a kind of tapestry, an atmosphere, a unifying mood, which pervades the entire song. "Moonlight" would appeal to anyone who prefers their music rhythmic yet calm, sensual and hypnotic. A haunting voice, a skilled lyricist, deft songwriting, and lush production come together here to create something simple, but unforgettable. Not bad for a debut!
OFFICIAL LINKS: FACEBOOK – SOUNDCLOUD – APPLE MUSIC – ITUNES
Please follow and like us: