Shallow Side is a rock band from Alabama made up of Eric Boatright (Vocals), Cody Hampton (Bass/Guitar), Seth Trimble (Guitar/Keyboard) and Heath Fields (Drums). The band released their EP, "ONE" on the 13th of January 2017 via Thermal Entertainment. If you loved the late 70's to early 80's visceral and raw rock sounds and appreciate the cutting edge production of today's modern rock records, this band is the lost link between the two. From the musicianship to the songwriting this EP is pretty much flawless front to back with no weak points whatsoever. Shallow Side is able to combine great melodies with a hard edge!
Shallow Side is a band laying down tracks with great driving music, the epitome of what rock n roll means – powerful beats, bone-crushing riffs, verse to chorus changes that grab you, and soaring vocals to die for. Moreover "ONE" is an EP that is mixed and mastered to sonic excellence.
Every sound from vocals to the meaty bass drum sound is phenomenal. There are no fuzzy distortions and the instruments are pristine and perfectly balanced. This is a recording that begs you to play it loud.  It's a joy to listen to for the quality and attention to detail.
The band's music design is ineffably solid, distinctive, powerful, and outstanding – as close to classic rock as it is distant from the formulaic nu-metal sounds of today. Right from the first few bars of the EP's opening track, "We Roll", a deft ear will immediately notice that this is a band with great potential, powered by an exceptional voice and gifted composer(s).
Shallow Side combines strong rock riffs and great musical arrangements that are garnished with anthemic choruses, to emerge as one of the best rock bands out there right now. Longtime hard rock fans will put on the EP and feel right at home.
The melodic choruses and the super guitar breakdowns in the intros and bridges on both "Rebel" and "Fight or Flight", should be trademarked by the band because nobody writes them quite like these guys do. There's enough rock inspiration and energy with the songs on this EP that makes it the recording you wish your favorite rock band had put out years ago.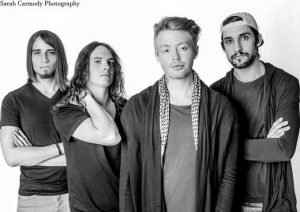 "Can You Hear Me" hits you in the face like a shovel, it's awesome. Apart from the uplifting chord progressions, the song also features some strong drumming too. With intense instrumental movements scattered throughout the EP, each track offers its own little euphoria to the listener. Not least the keyboard interludes which are brilliantly and tastefully blended into some songs, such as "Start A Fire".
Shallow Side are also masters of the hook – in a good way – making rock songs that are seriously loud yet irresistibly catchy, not just a bunch of overdriven noise. In my opinion, this EP is one of the finest pieces of rock artistry to come along in many a year. Eric Boatright is a talented vocalist, bending his voice into an amazing range from almost choir-boy-like smooth falsetto tones to edgy loud soaring choruses.
He has a way of tweaking the words with a kind of soulful wailing that you will find addictive, particularly evident on the reworking of Styx's "Renegade". The band is raw and impassioned, while their music is paradoxically melodic yet harsh; "ONE" is simply beautiful, edgy, soaring and fist-pumping awesome!
OFFICIAL LINKS: WEBSITE – FACEBOOK – TWITTER – YOUTUBE
Please follow and like us: