DJ, Media personality, Consultant and  A&R executive, DJ Thruvo has done it all, and is still doing some of it. He is also an active artist and hit songwriter who spends some time doing tours as well. The West Compton native began making his mark on the music industry 10 years ago, when he set his sights on conquering the music industry. But the road has been a rocky one in an industry we all know can riddled with deceit, the wrong people and tons of unexpected adversity.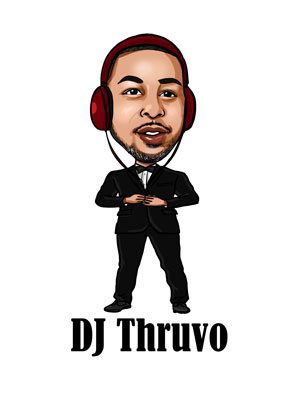 However all of this only strengthened DJ Thruvo's character and forced him to work harder towards success, as he guided other artists and offered them the necessary tools to develop their own brands. Today, a serious consultant with a Texas based firm, DJ Thruvo still nurtures his options as an artist, and is about to drop the upcoming album called "Courtesy of Compton" Which is now streaming on www.killjoyradioxm.com during the Indie At 2 mix. This segment airs daily at 2pm CST.
From this compilation comes the single "Karver Karters" by Dj Thruvo Feat 4Trey. DJ Thruvo is planting himself near the center of hip-hop's orbit, and the explicit money-making anthem "Karver Karters" proves that it's going to take more than music's usual adversities to move him out of the way. For starter he has an amazing ear for production.
The music is motivational at times – the sort that will have you feeling triumphant even when listening to your iPod while walking down a wet, grey potholed street, or finding lines such as "I'll be damned if I let the game get me. If it don't make money then it don't know me" stuck in your head and becoming personal mantras during the middle of a global economic crisis.
This is largely the result of some fantastic production serving as a perfect soundtrack to the lavish, big budget lyrical content, and in turn making almost everything sound anthemic. Both DJ Thruvo and 4Trey particularly shine here, providing a masterfully layered and composed song to a fine detail not often heard in Hip-Hop.
In fact, the production team's work is so remarkable at points that even DJ Thruvo detractors (if he has any) would have to admit that his future looks increasingly bright. "Karver Karters" ft. 4Trey is a clear indication that DJ Thruvo has found his creative niche, leading to what could probably be a truly enjoyable listen when his upcoming album finally drops.
OFFICIAL LINKS: SOUNDCLOUD – FACEBOOK – INSTAGRAM
Please follow and like us: