Sayii January is an upcoming rapper from Atlanta, signed to Miscellaneous Muzik out of Chicago. Sayii releases his 3rd studio album, entitled "Cries, Under The Summertime Sun" which contains 22 tracks. We got a sneak preview to a handful of tracks, and came to the conclusion that Sayii January is a conceptual mastermind. The rapper shows a flair for entrenching himself in his themes and crafting his songs in a way that immerses the listener into his headspace. Each track carries with it a different sound and message, but a common lyrical and storytelling prowess that will surely break him out of a crowded Atlanta rap scene.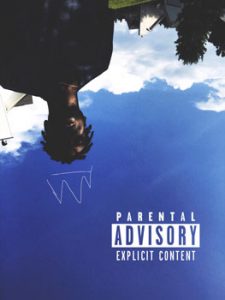 Most notably, the tracks ebb and flow like the narratives themselves, pairing Sayii January's soulful tones with his liquid flows, leaving the listener refreshed and longing for more. The beats are smooth and immersive, creating chilled soundscapes filled with ambient-like and downtempo grooves. The production on each track creates an atmospheric vibe with a solid rhythmic backbone.
Laser-sharp metaphors and profound messages aside, Sayii January sounds most in his element when he's able to showcase his top-tier penmanship. The wordsmith leaves no verse unconquered, weaving in and out of flows effortlessly and delivering tales that will keep listeners captivated. Sayii is a musical chameleon, allowing the production speak for itself before using his vocal versatility to blend his verses and hooks seamlessly.
On the aphotic "White BMW", Sayii January's voice is urgent and compelling, as he rides against a clamorous keyboard and a throbbing beat. The menacing keys and cracking percussion create a dynamic street banger. On "Sunfall" Sayii switches the template with a vintage piano and a murky drumbeat underscoring his vocal nuances and storytelling poetry. Heavy intricate bars are mixed with melodic motifs in a song that demands attention.
By the time I press play on "Karley Wilburn (Under The Streetlight)", it's clear that Sayii January is in a lane all of his own. He lets his thoughts and emotions take control of the track, as he ventures between resonating spoken word and melodic phrases. Every line is well placed and natural, flowing into each other. He seems to be creating what inspires him from within, while doing so effortlessly.
"Champions Don't Quit" brings a soulful sound and an uplifting groove, wrapped in a mesmerizing melodic backdrop. One of the best things about this album is the fact that Sayii January is not chasing somebody else's sound template, his creating his own. This is evident on nearly every track, and even more so on "Devour Part.1", where he employs some creatively nimble rhyming, on top of a brooding beat.
It's hard to find an album that's creative, cohesive and perfectly thought out, while also having immediacy and tons of replay value. Somehow Sayii January has succeeded in achieving just that, with "Cries, Under The Summertime Sun". Listening to this album, you are witnessing an artist coming into his own. Here Sayii January brings a whole new artistic strata to the game, putting together a distinctive and ambitious sound.
OFFICIAL LINKS: MISCELLANEOUS MUZIK – BANDCAMP – TWITTER – SPOTIFY – ITUNES
Please follow and like us: