Growing up in Malaysia, Sarves Thiru's journey with music started when she was eight years old, studying Carnatic music and spending a few years learning the veena and piano. Moving to the city, she met up with Srimathi Vijayalakshmi Kulaveerasingam, who became a driving force behind Sarves Thiru's musical journey. On moving to the United Kingdom, Sarves was introduced to Srimathi Sivasakthi Sivanesan, who taught her music at the Bhavan in London. She also got initiated into Kriya Yoga and began meditating at the time, a practice that continues to inspire her music.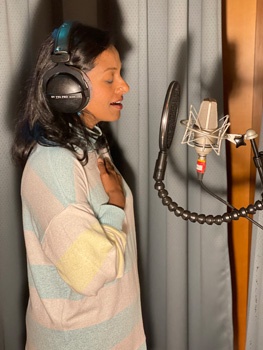 After an extended break Sarves Thiru found her way back to music during the pandemic and started taking classes again with Srimathi Sivasakthi Sivanesan, who sadly departed in 2021. Based in London with her family Sarves is realizing her dream of composing and sharing original music. Following her debut single release in July 2022, and being featured in new age charts, specialized playlists, several blogs, publications and radio airplay, she has released her second single, "Harmony: Lokah Samastah".
Sarves Thiru's music follows a narrative that speaks to the existence and flow of humanity, nature, the universe, and the spiritual world beyond. Her music flows organically as a means to connect beyond her own being and perceptions, deep diving into the spiritual ether with a blend of ambient, new age, mantra and Indian fusion soundscapes, which are designed to soothe, heal and inspire. It is manna for those seeking solace through sound.
"Harmony: Lokah Samastah" is truly majestic - grandiose, slowly unfolding, and extremely cinematic in its tender effervescent buoyancy. Sarves Thiru imbues a sense of peace and harmony to this recording. At times, it is very easy to get lost in the sheer sound, the comforting sense of it all. Glistening piano notes and sweeps of warm instrumentation underscore an angelic tone of voice that floats in shimmering cascades of poignant wonder.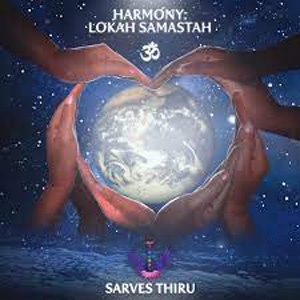 "Harmony: Lokah Samastah" possesses a sense of amity and calmness, of depth and encouragement, that's far more interesting and captivating than anything merely bombastic and rhythmic. It exists in a sonic space that's as spiritual as it is human and earthly. There are no boundaries around what Sarves Thiru creates. She ventures to places deep within her soul and allows her feelings to freely unfold.
If nothing else, through "Harmony: Lokah Samastah", Sarves Thiru demonstrates that her music is a reliable source of inspiration and comfort, especially as the world around us is undergoing troubling changes. This is a gorgeous dive into the world of transcendent musical composition. There's a real soothing, healing mood here. With headphones on, you can feel the music wash over you like cleansing waves of sound.
To make sure you receive the message of peace, harmony and unity clearly, Sarves Thiru's exquisitely affecting voice, sweetly echoes the words: "May all beings be happy and free. We are one family. Let's live in Harmony. Be blessed with divinity. Peace, love and unity." It's symphony of emotive, spiritual and rational enlightenment to an understanding of the direction humanity should be going in. "Harmony: Lokah Samastah" is a sonic surge of positivity and light that will entrance your senses and ignite your spirit.
OFFICIAL LINKS:
Website: https://www.sarvesthiru.com/
Spotify: https://open.spotify.com/artist/2YoSC6XiOIHRLFZzTBVjnS?si=9A7OY3_URdKv0dUz5hEhYg
Apple music: https://music.apple.com/gb/artist/sarves-thiru/1630815244
Tiktok: https://www.tiktok.com/@sarvesmusic
Instagram: https://www.instagram.com/sarvesmusic/
Facebook: https://www.facebook.com/Sarvesmusic/
YouTube: https://www.youtube.com/channel/UCzYJEHoqHuP0UCTyr1AFGbg
Please follow and like us: