Welcome to the electrifying world of Rippa, the unstoppable force in the underground rap game hailing from the vibrant streets of San Francisco, California. As the CEO of his own record label, Me Own Pockets, this multifaceted artist has been shattering boundaries and forging a path of his own, all while staying true to his roots. Since the tender years of his youth, Rippa's love affair with music has blossomed into an unyielding passion. Pouring his heart and soul into crafting profound lyrics and impactful tracks, he has set out on a journey to captivate audiences across the globe. His unwavering dedication and relentless pursuit of excellence are what fuel his artistic fire, leaving no doubt that his music is more than a mere hobby – it's a way of life.
What sets Rippa apart from the rest is his unwavering embrace of music in all its forms. Drawing inspiration from a vast array of genres, he effortlessly blends intelligence, reality, and creativity to breathe life into his tunes. It's no surprise that his songs resonate deeply, touching the very core of the human experience and stirring emotions within all who listen.
But Rippa's talent doesn't end at the mic. He's also a visionary entrepreneur, paving the way for others in the industry with the founding of Me Own Pockets in 2021. As its CEO and primary artist, he's taken the reins and forged a path of artistic freedom, one where the music flows unimpeded by mainstream constraints. In just two short years, this unstoppable wordsmith, producer, and entrepreneur, has unleashed a staggering number of releases. And the newest addition to his musical arsenal is nothing short of a revelation – 'Big Tippa.'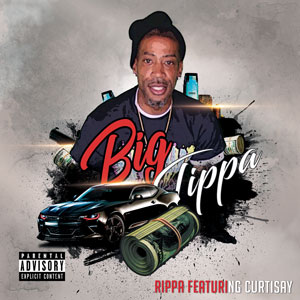 Released worldwide on all major streaming platforms, 'Big Tippa' emerges as a sonic powerhouse. From the very first note, the pulsating mid-tempo groove adorned with handclaps and a hypnotic guitar motif draws listeners into an enchanting soundscape, impossible to resist.
Once Rippa and the talented Curtisay take the stage, it's a lyrical spectacle like no other. Their high-rolling bars and braggadocio rhymes are masterfully executed, showcasing their unrivaled prowess as they dominate the night with style and swagger. The flows are flawless, the wordplay is razor-sharp – it's an auditory thrill ride of epic proportions.
As the lead single from the forthcoming album 'Contract Cuts,' slated for an Early Fall release, 'Big Tippa' is merely a taste of the sonic brilliance that awaits. Rippa is a virtuoso at tapping into emotions and experiences, his music a conduit to any feeling one might harbor. Prepare to be taken on a journey, a rollercoaster ride of sound, passion, and soulful expression.
So, buckle up and immerse yourself in the musical marvel that is Rippa and Me Own Pockets Entertainment. With every release, he beckons us to a world where boundaries are shattered, dreams are realized, and the essence of human emotion resonates in every verse.
This is Rippa – the Bay Area maestro with the world at his feet and music in his heart. And 'Big Tippa' is just the beginning of an extraordinary saga that will leave an indelible mark on the global rap landscape. Prepare to be inspired, uplifted, and moved, for Rippa's music is a symphony of life, and its melody is one you won't soon forget.
OFFICIAL LINKS:
Instagram – Me Own Pockets/Rippa Jones
YouTube – Me Own Pockets
Facebook – Me Own Pockets
Spotify – Me Own Pockets Presents Rip
Tik Tok – @rippa1983
Please follow and like us: