The more things change, the more they stay the same. I remember hearing those words years ago and I'm curious if Evil Ed (Lead Vocals & Bass Guitar), The Burner (Vocals & Guitar) and Cra "Y" Maker (Drums) and the company of Saloon Girls, Miss Candy Rose and Miss Sherly Colt find importance or meaning in them. Typically as bands progress in their careers they get more experimental in their sound. For some it works, for others not so much. Some return to form, lesser talents quickly fade away. Well fear not, this is Thrash Metal band Proll GUNS at their very best!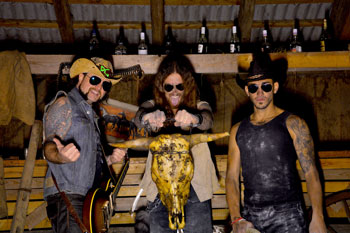 It's amazing to me how the German independent label, NRT-RECORDS comes up with so much quality material. Proll GUNS is making quite a statement here on their latest release, "Horseflesh BBQ" and it's evident to me that they are not going to fade away.
With almost an hour of music on this album, it's a no brainer. In this day and age where most bands think 35-40 minutes albums are enough, Proll GUNS crushes the competition in terms of playing time. More bang for your buck! Two thumbs up.
I'm blown away and inspired by how Proll GUNS could be pulling off this level of quality, as well raising their game in the independent arena. The variety and dynamics shifting from song to song assure the listener that this band is not content to ride on the sound and success of "And the Western Blood Runs" but throw in enough tropes and references to that album so longtime fans can't help but grin with each brain-shifting head-bang.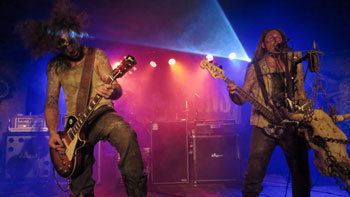 Proll GUNS take the very promising direction of their Western Thrash 'N' Roll sound and channeled the blast to create something very cohesive and meaty on "Horseflesh BBQ". This thing is weighty, awesome, wonderful and mostly focused, with Evil Ed, in particular, sounding passionate and brimming full of unholy fire. It sounds like a band that feels they have a point to prove and are intent on doing it with a musical pile-driver.
"Horseflesh BBQ", has it all and basically will help to create a whole new subgenre of metal, being a cross between Thrash Metal and Southern Fried Rock. Mixed and Mastered by Danish producer Tue Madsen; sonically, this is an exemplary record.
The instruments are crystal clear, the mix is crushing and well balanced, and this only serves to highlight the superb, passionate performances and some of the best vocals in the band's repertoire. It's a real treat for the ears, as hard-hitting guitar riffs and basslines swirl around the room while the gorgeously-recorded drum kit hammers proudly across the spectrum.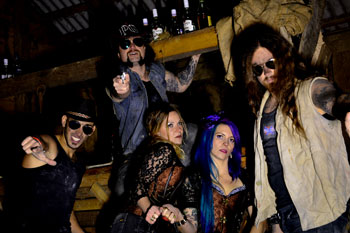 The quality of the songwriting tips everything over the edge. It's not just immaculately produced, furiously performed and stylistically satisfying, but it's also just plain brilliant in and of itself. The tracks stand up remarkably well to repeat listens. All the little clever structuring decisions and neat flourishes reveal themselves more and more with repeat listens. There's an immense depth to this one.
There's no filler, no weak songs, nothing out-of-place. The choruses are memorable. The solos are scorching. The fills are impressive and satisfying. The album is chocked full of riffs that sound like all eras of metal history and still move things forward to the future. There's a bouncy Hardcore-influenced sound to "From Texas To Hell," a haunting epic feeling to "Fucking Troublemaker," a melancholy melodic feel to "Southern Slavery" a big dirty sludgy sound to "Execution" and more rampant thrashy aggression with the likes of "The Revolver" and "Reno Gang." This titanic recording is full to the brim with all different sorts of ideas and directions but still feels like one cohesive whole. Get yourself a copy if you haven't already!
OFFICIAL LINKS: WEBSITE – FACEBOOK – TIDAL – SPOTIFY – DEEZER – GOOGLE PLAY – NRT-RECORDS
Please follow and like us: