Rarely mentioned as much as flourishing hip-hop spots like Detroit, Chicago and Atlanta, Denver rap is rife with talent. The fact is, Denver is a hub for talent that goes largely underestimated. The consistency of quality music coming from the Colorado capital, has yet to break into mainstream music on the national platform. It is time for their musicians to shine and in the new decade, there should be opportunities for artists in the Denver area to make this happen. One of the reasons Denver has not been able to accomplish creating its own nationally seen culture simply boils down to the fact that they haven't had a lot of recognition for it yet. No one knows this better than an artist who has spent time putting in the work needed to shine.
Prinjastin Sykes Aka Prince Lit came out of a foster home, and received a housing voucher through the family unification program. He has since held a steady job – moving from an administrative assistant at the Supreme Court building downtown for the office of child representative, and an internship for the office of homeless youth and development where he worked with the housing authority.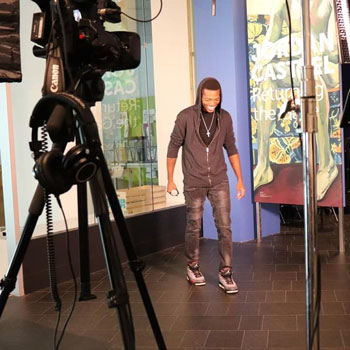 Prinjastin continues to serve his community, as well as feed his artistic craving which initially started out as poetry, and eventually turned into music. Prince Lit recently released his latest single, "Celebrate".
The track broadcasts a refreshing and well-developed aesthetic–one that feels like the artist's specific achievement. With a sharp stylistic signature, the track's charm lies partially in Prince Lit's eminently chill and melodic composure. His pleasantly personal charisma shines through, while his music feels like a breath of fresh air in an overcrowded field.
In many ways, "Celebrate" is an amplified version of Prince Lit's defining traits; the production has gone from two steps ahead to four; the artist's brand of melodic phonemics is even catchier than before. In other words, it's exactly the track that one might expect to follow in the wake of Prince Lit's previous releases. This is a song that will be played ad infinitum at functions until the hooks, the breaks, and of course, the bass, are burned into the brain of every attendee.
Much of today's new wave rap music is carried by the beats that skyrocket the songs into success. Prince Lit adds witty wordplay and a smooth flow to that equation. What distinguishes Prince Lit from his peers is his ability to effortlessly switch up his flow, and voice for each new set of bars.
The result is a track that feasts on the impressive, magnetic, energizing and infectious rhymes Prince Lit delivers. This project is three and a half minutes of thrill, thanks to the dynamic sonic world it has built, and where Prince Lit's vocals fuse with the instrumental insanely well. There is no doubt that Prince Lit is a legitimate presence in an ever-expanding rap game in Denver.
SOCIAL LINKS: INSTAGRAM – FACEBOOK – TWITTER – LINKEDIN
STREAMS: SPOTIFY – YOUTUBE – APPLE – SOUNDCLOUD
Please follow and like us: