Inspired by what's currently trending, combined with the sound of the 90's, Pete Vagabond makes electronic music, leaning mostly towards progressive house. Using an assortment of DAWs since childhood, Pete has been making music for many years, however he only recently decided to share is music. Those of you that have listened to his previous single "Without You", already know what to expect from his latest single "The One": Carefully layered synth melodies, mellifluous vocals, and waves of warm, feel-good vibes. Moreover, the track showcases the multi-faceted producers' blend of organic-sounding instrumentation and retro electronic elements, across an engaging production which wouldn't sound out of place on the mainstream pop charts.
A cleanly picked and strummed acoustic guitar has a dominant role throughout the song, sharing center-stage with the resonating synth pads, thus creating a sonic balance that will appeal to a wide demographic of music fans.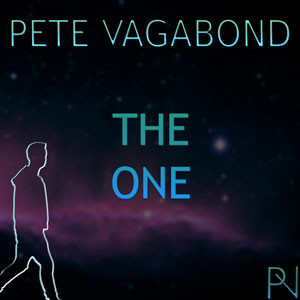 It's hard to imagine many other current EDM acts credibly deconstructing their sound like Pete Vagabond does in the opening bars of "The One". The result is a clean-cut rave with a dreamy shimmer that fans will devour. Simply put, this song has the potential to be huge. It has all the makings of a summer radio smash.
"The One" is the type of track that is both incredibly unexpected and pretty much irresistible for the year 2020. Expectations met, superseded, and immediately I hit replay. This track is going round again and I'm not the only one within ear shot of my stereo who is pleased about it.
The song has easy laid back house grooves with just enough pop melodics to grab a hold of anybody. This song is put together by someone with a wealth of talent, intelligence and an idea of how to make the roots of house music come alive in a fresh and engaging way.
Pete Vagabond seems to have outdone himself with "The One". The production value is top of the line, with a distinctive feel while straying between the EDM and pop styles. The vocals are captivatingly easy on the ear and passionate, as is consistent in all of Pete's music.
Contemplative, mature, and uplifting, the song proves that there can be thoughtful and emotionally universal EDM music.  Representing the real emotions and lives of the people behind the party scene.  In a culture increasingly aware of EDM, Pete Vagabond presents who we are and what we feel beyond the dancefloor.
If dance music needs to be more mature, going beyond the formulaic 'pyrotechnics and lasers' sound of the Beatport charts, then "The One" is a more than credible alternative – there is no cheesy big room sound, with airy female vocals, dramatic buildups, and zero subtlety. Instead Pete Vagabond deals out a gorgeously arranged, melodic song, with male vocals and plenty of sophisticated nuancing.
 In all of his releases Pete has continually established himself as an expert architect of soundscapes that are equally familiar and warm. An ongoing commitment he re-affirms with "The One". Pete Vagabond once again shows an inspired ability to communicate emotion in tone, lyric and structure.
OFFICIAL LINKS: YOUTUBE – TWITTER – SPOTIFY
Please follow and like us: