The "Silent" EP is a beautiful blend of emotional and heart-felt pieces along with some great rock riffs and hugely grandiose musical ambitions. All of which are fully achieved by UK based artist, Pete Gustard. The surprise is that all of this happens within the space of only four songs. This of course allows the recording to stay consistent all the way through, so when the listener is fully captivated by the material, it is sure to be enjoyable from beginning to end. Something this intertwined and profound always runs the risk of collapsing under its own weight, but at no stage does "Silent" feel overbearing.
"Silent" is refreshing, thought provoking, and well-done indie and rock-flavored music, which has a wide appeal, because Pete Gustard's musical approach is unlike anybody else's. There's no denying that he carries a certain amount progressive-ness in his music. Not progressive in the sense of twenty minute songs with endless solos and deviating passages, but progressive in the sense that the music is always looking to incorporate expansive ideas, sounds and themes.
His sharp lyrical diction has been further honed since his previous releases, and sits alongside wonderfully thought out, artsy and stately instrumentation. Moreover, Pete Gustard's voice has rarely been in this fine a form, and his original style is ever-present.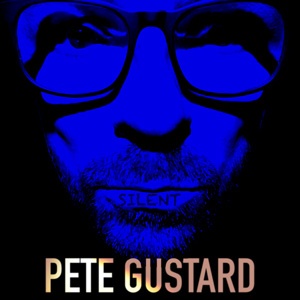 The EP kicks off with the moody laidback groove of the darkly shaded "The Dream Decade". The resonant and chugging basslines underscore the twisting synths and steady mid-tempo beat. On top, Gustard weaves an intoxicating melody. His voice is both dark and luminous, which all part of its charm.
"Indigenous", a song about the power of language, and how we perceive words, also runs on an infectious, chugging bassline, aside a crunchy guitar and ringing synths. Much like the opening track, it both challenges and highlights the sounds of diverse musical eras. The song thrives with its richly layered harmonies and call-and-response vocals, just as much as it is propelled by a mid-tempo thrusting rhythm, and slapping drums.
"Seen In The Right Light" is probably the most ambitious musical piece on the recording with its cinematic styled soundscape.  The theme centered on the beauty and nobility of elephants is an easily relatable one, and Pete Gustard's powerfully mellifluous voice comfortably carries the song's message.  Structurally and sonically, it was probably intended to be an immersive listening experience, which it so thoroughly is.
All throughout this EP, there is a level of maturity and refinement that's befitting of an artist who's already built up a considerable amount of experience in other projects. The EP closes with the crunchy guitars of "Moons" and it's religious questioning.
Pete Gustard's vocal delivery is iconic, and he never settles for anything less than creating a thrilling and inventive listening experience. This song is blatantly constructed around Gustard, and his sincere musings, and what a brilliant thing that turns out to be.
It would be extremely difficult to argue that "Silent" proves an extensive amount of musical mastery on behalf of Pete Gustard. It is evidence that he still has many tricks up his sleeve.
OFFICIAL LINKS:
https://www.youtube.com/c/Seashaped
https://www.facebook.com/petegustardmusic
Please follow and like us: