PBU Radio DUCMG and TG TopFloor ENT presents "We the People Mixtape". A collection of politically, and socially conscious, hip hop artists, from across North America, who contribute to the cause of awareness. The mixtape features artist such as Es, Pro.li.fik, Jae Blacc, DNard DaPoet, Rob West, Dorsell Lyric, Jon Blaq, KZ, Herk Cutts and Unko Jozee, who each give listeners their personal political and social views. WTPM was streamed in its entirety on Powered by U Radio Sept 23, 2016, while Dat Wave Magazine has sponsored a free artist hand book on all DL sites.
"We the People Mixtape" is fearless in its scope here, both lyrically and sonically. That the state of American discrimination is still sadly unresolved 150 years after emancipation should have been clear in everybody's eyes. But in a n era all about 'tha benjamins',  'poppin' bottles' and 'shorty on the side', everything else seems to have gone unnoticed.
Now after decades of stagnation and generalized balling around, black anger has been increasingly enunciated in American urban life, spurred by the current daily events which we should all have clearly depicted in our minds.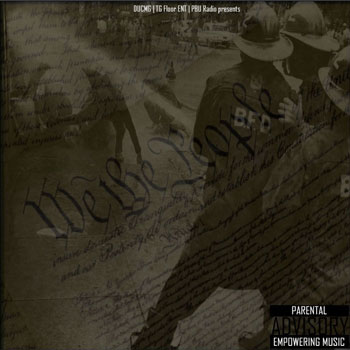 Through the years there has been many black American hip hop artists seriously occupied with social and political disorder, but in recent times only a handful have stayed true to their aim in the game. "We the People Mixtape" brings the true spirit of hip hop back, as it was meant by the forefathers of the genre, showing us that there are still artists who care the quality of human life.
From the get-go with 'Unko Jozee – Wake Up', this mixtape presents the conscious rapper versus the gang-banger, the macho grandstander, white culpability and even black-on-black violence. And if you think that this collection contains only bits of personal, social and political context interspersed throughout, you're wrong – the beats slam and bang too!
You get a first taste right from 'Jon Blaq – Sleep Walking'. In its entirety, "We the People Mixtape" is a conventionally enjoyable record; but it is, essentially, the screams of afflicted men performing open-heart surgery on their societies, and even their own ethnic groups. And none better than the track 'Es – Fact Remain', captures the situation as clearly.
But if PBU Radio DUCMG and TG TopFloor ENT's mission was to make listeners aware and exceptionally thoughtful, then the "We the People Mixtape" seems to have succeeded, as we are offered plenty to applaud.
Like 'Jae Blacc Ft Marquez – Lets Change', which comes riding in on a soulful urban beat and smooth R&B hook, or the relentless flow on 'KZ – Stand United Not Divided', and the street anthem Dnard DaPoet – Show Us Some Love.
"We the People Mixtape" is, undeniably, an important mixtape – a wake-up call with a thousand doses of social and political concern and despair. And while the recording is a lyrical landmark above all, there's no missing that it's a rich body of work all around.
OFFICIAL LINKS: SPINRILLA – POWERED BY U RADIO
Please follow and like us: