Oxaï Roura is a composer of unusual musical forms besides being a percussionist, a vocalist and a researcher in Ethnomusicology. His unique music could be described as an original blend of strange futuristic-electronic sounds, ancient mystical voices and spiritual percussions from different parts of the world. Immersed in learning the traditional ways while at the same time openly interested in varied music styles and genres, an important aspect of Oxaï Roura's work consists in traveling the world as an ethnomusicologist (South Africa, Brasil & other parts of South America, Melanesia & Oceania…) in order to collect different kinds of endangered sonic forms. Since 2003, Oxaï has released several original albums and musical projects.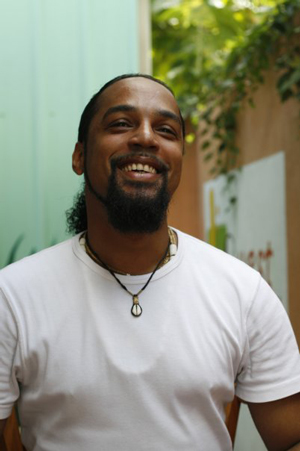 We recently caught up with one of his musical pieces, the single "Afro-Himalayan 01: GanEshou". The track apparently relates to is the first musical piece in a brand new genre/style created by Oxaï Roura, called 'AFROHIMALAYAN'.
Oxaï uses all of the color and intensity possible in rhythm, texture and tone to make this piece so magnetic. You hear his technique of gradually building up a rhythm by adding notes and beats through voices and percussive instrumentation – taken from African and Himalayan influences – in successive repetitions, bringing them into in a new context.
Based almost on an evolving cycle of sounds, the whole work creates a sequence of harmonic and rhythmic expansion and an explosion of that cyclic pattern. The experience of the piece is much richer than the explanation suggests.
"Afro-Himalayan 01: GanEshou" creates a labyrinthine experience for the listener. You're locked into the mesmerizing way in which one sonic pattern morphs into another, addicted to the groove and pulse of the music at the smallest scale of what's happening from one note or beat to the next.
At the same time, the music describes a bigger journey, as the patterns recur over the scale of the whole piece. Oxaï Roura builds up waves of density and complexity that crest at different points, creating an experiential arc that does much more than repeat a sequence of notes and rhythms.
I find "Afro-Himalayan 01: GanEshou" a compelling and even moving piece, albeit very short, And unlike our western world pop, this music eschews any hint of coy lyrical sentimentality, as its  expressive power comes from the notes and beats themselves – or rather, from the weft of pattern, melody and pulse.
OFFICIAL LINKS: ITUNES – REVERBNATION – FACEBOOK – TWITTER – YOUTUBE
Please follow and like us: