In the cutthroat world of the independent music industry, success is often measured by the number of streams, downloads, and sales an artist can generate. For Or Golan, the Israeli electronic music producer, achieving success has been an arduous and challenging journey filled with setbacks, obstacles, and moments of triumph. In 2020, Or Golan rose to fame with his single "I am Greedy," which garnered unprecedented success despite being an independent release. It was a well-deserved win for the artist, who had been tirelessly working to create a pathway for himself in the music industry. Unfortunately, this moment of triumph was short-lived. Or Golan was swindled out of all the funds generated by the popular single, leaving him feeling disillusioned and betrayed.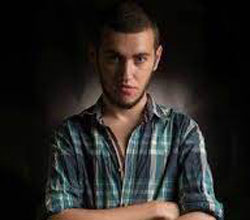 But Or Golan refused to be defeated by this setback. He took a yearlong hiatus before bouncing back with brand new material and some major changes to his musical aesthetic. The result? A body of work that showcased his resilience, creativity, and unwavering passion for music. Despite his stutter and hereditary disease, known as FMF (familial Mediterranean fever), Or Golan has become a tremendous achiever in his field.
His music has been aired on numerous radio stations around the world, and he has done countless radio interviews and even a performance in Times Square, along with appearances on the Brazilian VV8 channel. , Or Golan has reached millions of listeners and viewers worldwide with his unique sound and inspiring story. His achievements for an independent artist are impressive, to say the least.
Or Golan has sold over 1 million copies of singles, and his music has entered more than 70 countries. "I am Greedy" received over 12,000 radio plays worldwide and "Havagabond" received over 8,000 radio plays, making it the tenth most popular song played in Senegal in October 2022. "Zarar" has also received over 3,500 plays worldwide, with Or Golan claiming first place on radio charts an astonishing 20 times.
Or Golan's latest electronic instrumental single, "There Is No Chance For Us," is a testament to his resilience and determination. This track is a must-listen for anyone looking for a creative and inspiring musical experience. The single is highly impactful, superbly arranged, precisely mixed, texturally varied electronic music that sounds like it could have come from no other artist.
Part of Or Golan's genius is how he takes ideas and runs them through his own highly idiosyncratic filter. The care and virtuosity with which "There Is No Chance For Us," is assembled is immediately obvious, but nothing feels difficult; the record has an easy flow. Between twisting synths and white noise, and an incumbent atmosphere, there's something new to uncover with every listen of the track.
To put "There Is No Chance For Us," into genre classifications would be futile as Or Golan has his own sound and style. It is apparent that the Israeli producer is crafting his new tunes with much more razor-sharp meticulousness than can be found in his early works. Formed from the unmistakable palette of darkly evolving auras and ominous synths that fans will not expect, the track also manages to mine enough seams of compelling futuristic experimental flair to mark progression and evolution for Or Golan's career.
"There Is No Chance For Us," adds another impressive and, at times, incredible chapter to the work of Or Golan. With his talent and unstoppable drive, there's no doubt that he will continue to make waves in the music industry for years to come.
OFFICIAL LINKS:
https://twitter.com/orgolan6
https://www.youtube.com/channel/UCv7Il8BJauftjlwdS6ftiGg
https://www.instagram.com/orgolan27/
https://www.tiktok.com/@orgolan27
https://music.apple.com/il/album/there-is-no-chance-for-us-single/1679583019
https://open.spotify.com/album/6HDxTRmST4sCNSuOqeOQfg
https://www.youtube.com/watch?v=MqXwjByTA7g&list=OLAK5uy_mWfxzOzdus6QtFU427Q4OPRzXswqHuEZY
https://music.youtube.com/playlist?list=OLAK5uy_ngMvb7J5Zuj4snnr1VUB4haHc_WsaHYR0
https://www.deezer.com/us/album/422904807?autoplay=true
Please follow and like us: